Hands Across the Sand II
July 1, 2010
Erika & DeeVon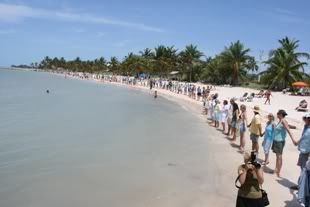 Hands Across the Sand II
In February, before the Deepwater Horizon disaster and the horrific scenes that are coming to us each day from the Gulf region, there was an organized effort to protest against off-shore oil drilling called "Hands Across the Sand" that took place at various locations across the country including Key West, where about 200 some people came out, joined hands and created a No Drilling message that looked cool from the air. It was a nice event, but there wasn't the urgency present with the second attempt at Hands Across the Sand that happened this past weekend.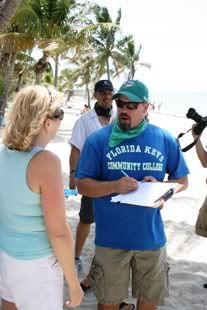 FKCC's Dr. Patrick Rice
UU Fellowship of Key West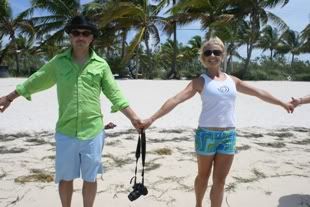 The event, organized locally by the indomitable Erika Biddle, had a much greater sense of importance with all that has happened with the horrible oil gushing calamity that continues in the Gulf of Mexico. This time there were close to 400 people who showed up on Smathers Beach in Key West dressed in Blue & Green to support protecting the ocean that is so vital to all who live on this island.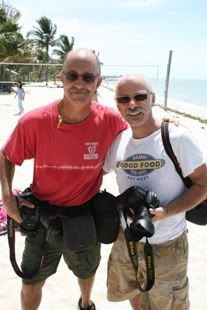 Mike Hentz & Sheelman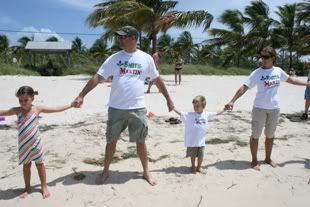 The crowd was a wonderful diverse cross-section of our community and was remarkably restrained, choosing the quiet powerful symbolism of clasping hands and lining the beach to an angry protest. That isn't to say there were not angry people, crushed about the relatively apathetic response by BP and government officials to get the horrible situation under control, but the response was muted and other than a few protest signs, people were generally just showing their support and love for a clean ocean.
Lucy
Video by Haig Varjabedian
It was an interesting scene as the people arrived, lined-up, joined hands and were counted before dissolving away back to their lives, all the while the regular beach activities continued unabated around them. Kids building sand castles, kayakers, sunbathers, swimmers all seemed to add to the sense of why protecting our beaches is so vitally important.
The event coincided with one of the annual Swim Around the Island events, and we were there to witness the arrival of the overall winner of the event, a young girl who swam the 12.5 miles around Key West in just over 4 hours in windy and sort of rough conditions and who upon arriving on shore promptly picked up a sign to express her desire to keep the oceans clean.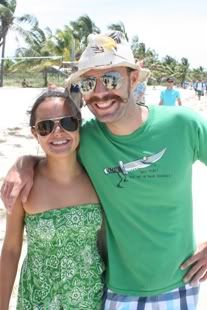 Natalia & Ian
Hands Across the Sand