One Human Family
June 30, 2010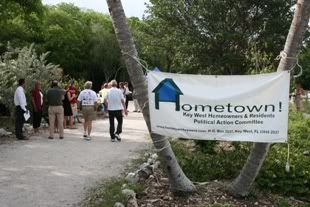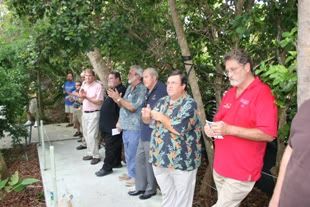 Candidates line up to speak
One Human Family
Key West is a unique place, full of wonderful interesting people. I'm sure many places have their fair share of unique people, but Key West seems to have a greater concentration than anyplace else that I have been. I got to experience two very different varieties of Keys characters this past week as I attended events that showcased the diversity and incredible character of our island. Two events that on their face, might seem very different, yet each exposed me to the wonderful, interesting qualities of the people here.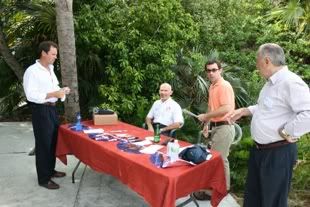 Todd, Tom, Alex & Sheldon
The first was the meet the candidates forum hosted by HomeTown PAC, the Key West based political action committee which I am currently serving as a board member. The event was hosted at the beautiful Key West Botanical Gardens and was held on the final day of qualifying for the local elections which will be held in August and November.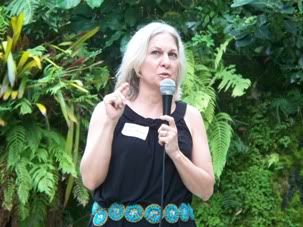 Carol
School Board Candidate John Dick was elected with no opposition.
There were close to 30 candidates on hand (all but one) for the various races that include local Monroe County Commission, the Mosquito Control Board, the School Board, various judges and more. As a board member of Hometown, I will not use this blog to promote any specific candidate. I try to avoid politics, religion and the like on my blog, but I will encourage people living in the Keys to check out the Hometown PAC website, attend one of our future forums and to participate in local elections by getting out and exercising your right to vote. We have seen locally in the past few years that local elections for seemingly minor positions have major ramifications and we all have a voice to elect our representatives.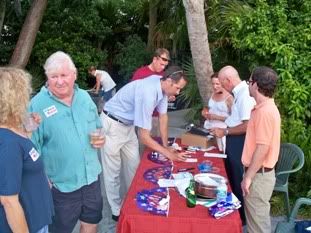 The other big event was a fundraising event at the 801 Bourbon Street bar to raise money to help with medical care for another of Key West's most iconic figures, J.T. Thompson. In 2000, JT started handing out simple stickers with the phrase "One Human Family". A decade later and literally hundreds of thousands of stickers later, JT continues to hand them out and the slogan has been adopted as Key West's official philosophy.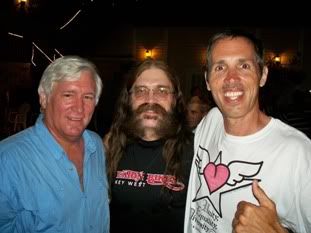 Ron Saunders, JT & Mike Mongo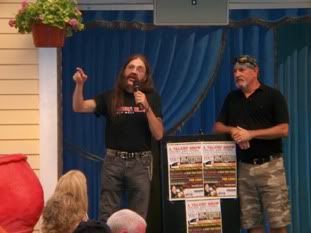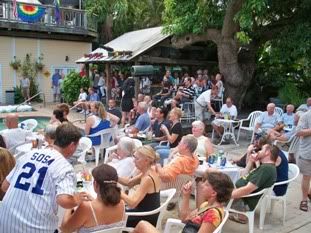 Hundreds of people showed up to support JT and the event seemed to be a big success, and even though the event was all about him, JT couldn't stop even for a few hours and had the stickers and "One Human Family" wristbands available to all who wanted them. There was a plethora of entertainment, food and a silent auction and everyone seemed to have a good time. You can learn more and even order a free sticker at the link below.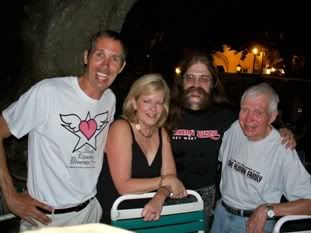 Finally I have been spending time hanging out at Shanna Key, always an interesting experience, which has become the World Cup headquarters, for watching soccer action. Key West is loaded with people from all around the globe and it seems as if no matter the game, there is always a large raucous crowd to watch the games. Sadly, I watched the USA drop out with their loss to Ghana 2-1, but it sure was a fun run and the spirit of the fans at Shanna Key was great.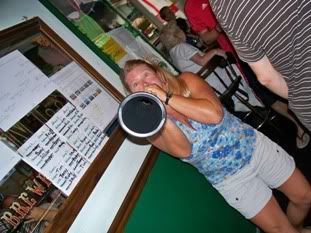 Fiona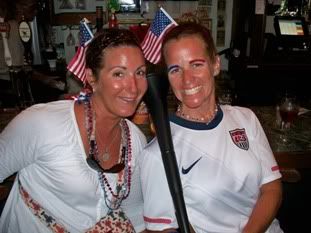 Go USA!!
Hometown PAC website
One Human Family