Birthday Bonanza
June 14, 2010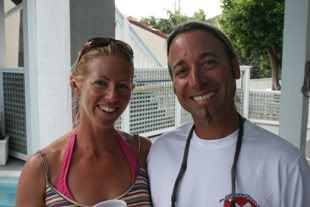 Bethany & Richard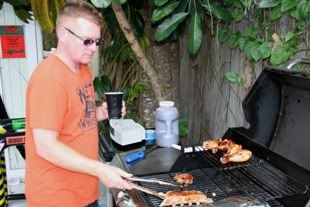 Rhett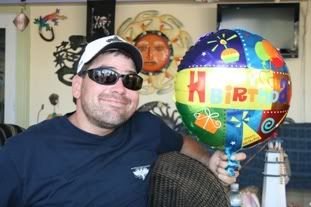 Todd
Birthday Bonanza
Since returning to Key West from attending the Indy 500 a couple of weeks ago, I have been maintaining a very low profile. Kathy has been gone, heading up in early June to Massachusetts to go to her 25th High School reunion, attend the high school graduation ceremonies of our niece Bayla and spend a few weeks visiting with family and friends along the Eastern seaboard. I have remained here in Key West, taking care of our pets, working and not really getting out so much until this past weekend, when I joined in the celebration of a number of birthdays of my friends Rhett, Todd, Richard & Bethany all who celebrated birthdays over the weekend.
Old Man Rhett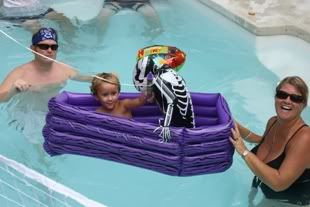 The Key West weather has been hot and humid, much more like late August weather than early June, It has been past 90 for about ten days straight or more. The hot weather finds many Key Westers hitting the water to cool off- either out on a boat or poolside. The four birthday celebrations that I attended all involved pools, drinking, food and fun- pretty standard for summer in Key West.
Trevor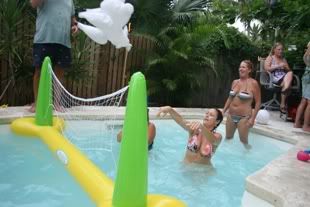 Volley-Sheep
The four birthdays were celebrated in three parties (Richard & Bethany hosted a joint party) over two days that kept me busy party hopping. I started off at the 40th birthday party for our friend Rhett. His wife Melissa worked overtime getting food ready and their home decorated and Rhett worked overtime on the grill, preparing wonderful fall off the bone baby back ribs.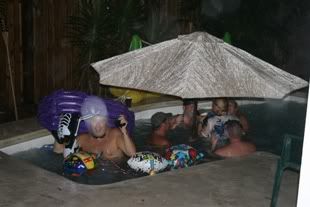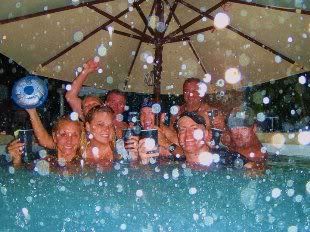 The party was an all day affair, lasting over 12 hours and through a wicked storm and power outage that did little to dampen either the spirits or mood of the festive affair. I made two visits, early and late at the shindig and enjoyed the party immensely. Where else could I have seen a game of volley-sheep?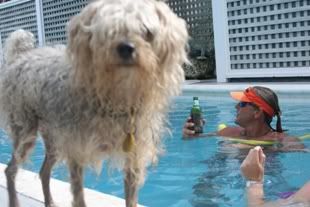 Dude & Andy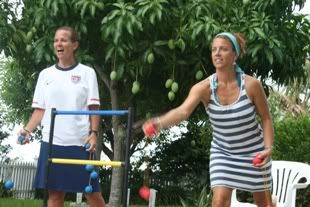 Carol & Tara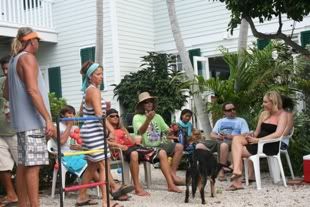 In between visits to Rhett's party, I checked on our sick kitty Suzy, watched the end of the USA vs. England opening World Cup match, which ended in a 1-1 tie and slipped over to the Hilton Haven party of our friends Richard & Bethany. Their respective birthdays are only days apart and their combined party featured a wonderful pool, food, drinks and games. It was a nice chance to see more great friends and to cool off, relax and enjoy the beautiful, hot Key West day.
Seth & Carol
The final birthday celebration was Sunday evening, a wonderful birthday dinner for our friend Todd at the home of mutual friends Tom & Terry. This gathering featured a delicious grilled out meal with T-bone steaks and all the fixings, all served poolside. It was an excellent way to cap off the weekend and the food was fantastic. Thanks to all my friends for inviting me to such great parties. Kathy certainly missed out, and it was nice to get out and think about something other than oil spills, sick pets and the like.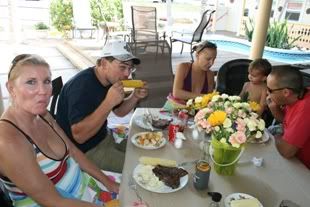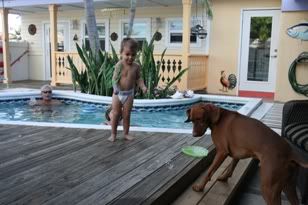 Jackson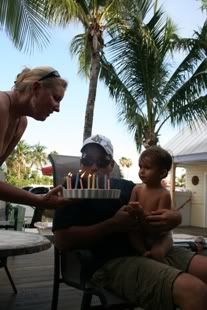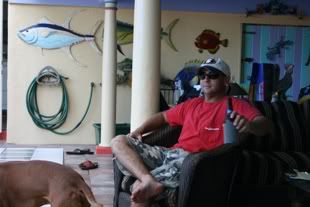 Glen