Knock Out Qualifying
May 23, 2010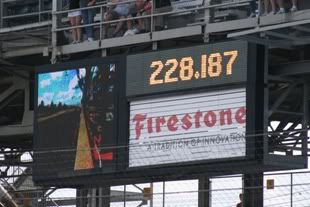 Pole Winner Helio Castroneves
Knock Out Qualifying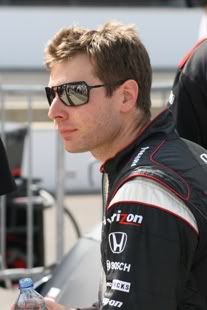 Will Power
The new condensed schedule isn't the only new change this year at the Indianapolis Motor Speedway. This year for the first time in almost 100 years, qualifying was done in an entirely new complicated format. Qualifying was divided into two days, Pole Day on Saturday and Bump Day on Sunday. On Pole Day, the top 24 starters would be determined with a special knock out qualifying session for the fastest nine drivers held late in the afternoon.
Danica Patrick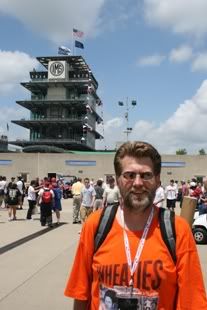 Dan
This new gimmick was designed to increase the on track activity and add some additional suspense to the first day. Personally I did not like the new format, I am too much of a traditionalist, but the fact remains that the format did indeed seem to work as there were a lot more attempts and it remained interesting right up to the final gun at 6 PM.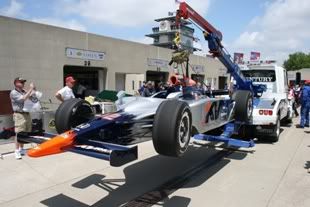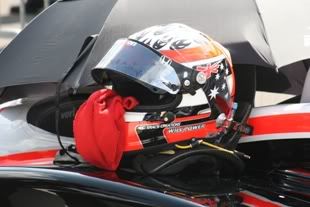 I went out to the track fairly early to join my friend Dan in walking around the garage area and watching the opening couple of hours of qualifying. We had a great time, getting to meet and spend some time with former driver Bob Harkey, talking about the old days and hearing some great old stories about historic races. We also got to see former heavy weight Champion Evander Holyfield, who was visiting the speedway as a guest of A.J. Foyt racing. He still looks pretty damn fit and seemed pretty interested in what was going on.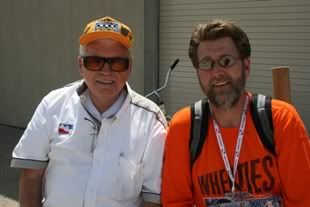 Bob Harkey & Dan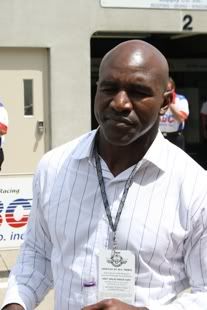 Evander Holyfield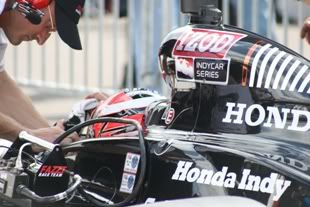 Alex Tagliani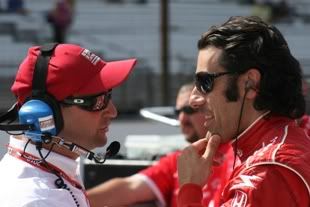 Dario Franchitti
When we went out to the stands to watch the action on the track, sitting right by us was Indy Lights driver Pippa Mann, who had hoped to be the sixth woman attempting to make this year's field, but could not get a sponsorship package together in time. Hopefully next year she'll be on the track rather than in the stands.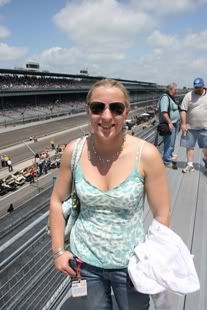 Pippa Mann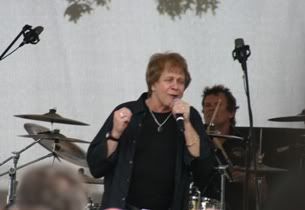 Eddie Money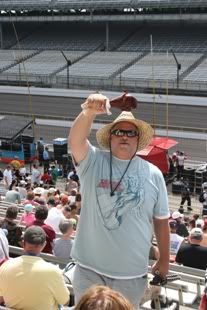 Abe
Ryan Briscoe
After the first round of qualifying, I headed over to join another group of friends to watch the fast nine knock out round. On the way over, I stopped briefly to watch 80s singer Eddie Money perform on the pagoda stage. It was a mob scene, so I lasted only through a couple of songs, but Money still sounded pretty much the same.
"Two Tickets to Paradise"
Helio Castroneves once again captured the pole position with a run over 228 mph followed by Will Power with Dario Franchitti rounding out the front row. As soon as qualifying was over, I headed over to Broad Ripple to join my friends Jody, Amanda, Kristi, Laura & Tim for what is becoming an annual dinner get-together. This year we met at Flatwater restaurant which is right on the canal in the former Bazbeaux Pizza location. It was a great evening catching up with friends who go back more than 30 years.
Tracy & Kevin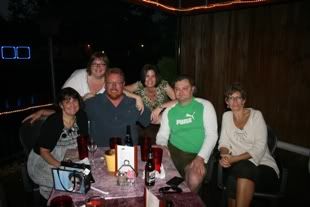 Jody, Amanda, Michael, Kristi, Tim & Laura
Laura & Kristi