Feelin' Good Again
May 1, 2010
REK, Jamey Johnson & Raul Malo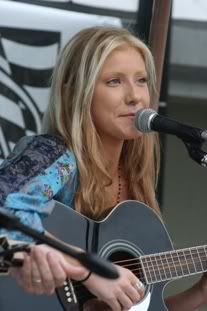 Kalisa Ewing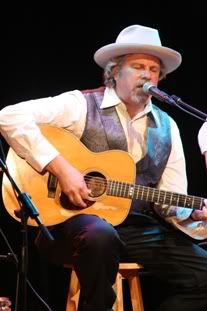 Robert Earl Keen
Feelin' Good Again
The first full day of music at the Key West Songwriters' Festival featured over 14 continuous hours of musical performances spread over 11 venues, many of which were happening simultaneously, making for some difficult decisions for music lovers who were trying to catch as much of the action as possible. Both Kathy & I had full days of work which pre-empted us from being able to catch any of the daytime shows, what we lacked in quantity, was easily made up in the quality of the spectacular shows we saw at night.
Jamey Johnson -"The High Cost of Living"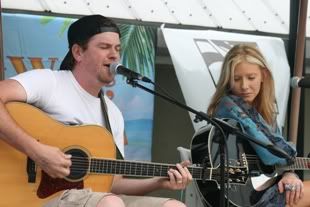 It started for me right at 5 o'clock, when I conveniently had a work related meeting downtown at Truman Annex which got out just in time for me to slide over to catch the show at the Sunset Deck at the Westin Resort. The show featured a good selection of songwriters that included Dave Berg, Kalisa Ewing and Brett Jones in the round that I saw. The setting couldn't have been more intimate and the threatening raindrops held off as well. I wished that I could have stayed longer but, I had another stop to make before going home to prepare for the big San Carlos show in the evening.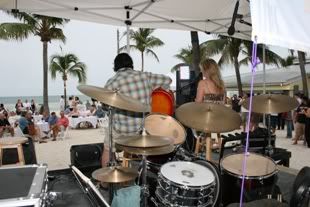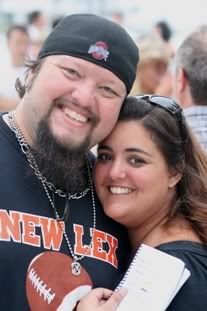 Cliff Cody & Dani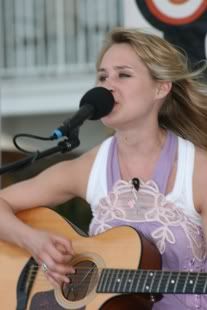 The next stop was at the Southernmost Beach Café where they were holding a beach bash at the waterfront stage on the beautiful beach where Kathy & I were married. I got there in time to see sets by Andi Zack & Ken Johnson and Sunny Helms & Neil Medley, but once again had to leave before Howard Livingston & the MM 24 Band played their set. The rain fell slightly harder at this event, but not enough to cause any major problems and it would be the only rain of the entire event as it soon cleared.
San Carlos Institute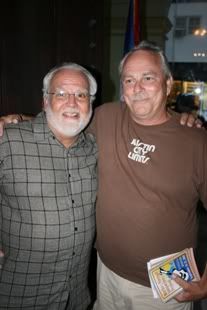 Alex & Charlie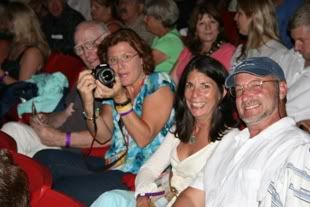 The show that we were most looking forward to did not disappoint. I met Kathy & her father Jim at the San Carlos for what was one of the big shows of the week. It certainly had the most eclectic line-up with the biggest "names". The show opened with sets from Rebecca Lynn Howard and Kim Carnes, followed by Tom Douglas and Bob Dipiero with the finale that featured Jamey Johnson, Robert Earl Keen and Raul Malo sharing the stage.
John-Michael & Madison
Kim Carnes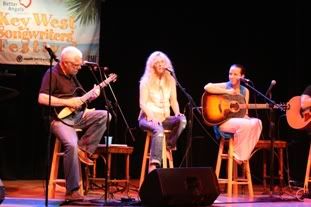 Rebecca Lynn Howard
My press pass also allowed me to sneak over at times to the Tropic Cinema where I caught portions of sets from Hugh Prestwood, Chuck Cannon, Shawn Mullins and Chuck Jones, though the vast majority of my time was spent at the wonderful show at the San Carlos. It was spectacular. Each group got just that much better with the fnal grouping presenting a show that was as good as anything I have ever seen at the many Songwriters' Festivals that I have seen, and ranking right up there with any musical performance I have ever seen.
Raul Malo- "Lucky One"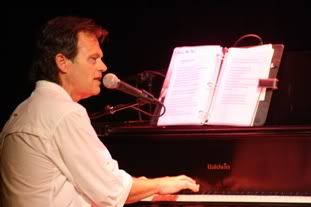 Tom Douglas
Bob DiPiero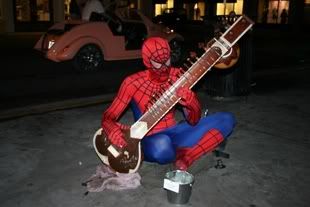 Raul Malo kicked things off and it seemed at first as if nothing could top his outstanding performance, but Jamey Johnson gathered steam as the night progressed and by the end he was as clear and strong as anyone I have seen at this event ever. Robert Earl Keen was consistently awesome throughout and the three of them, different as they are, were excellent complements to each other and also seemed to raise the stakes as they each seemed to want to keep up with the other. It was remarkable and wholly satisfying.
Robert Earl Keen
Jamey Johnson
It was also exceedingly entertaining as all three men played off each other and were at times very funny. The crowd was excited, at times almost overly so, it was easily the most raucous crowd that I have ever seen at the San Carlos. An incredible evening all around, one that I feel fortunate to have witnessed.
Raul Malo