That and This
April 27, 2010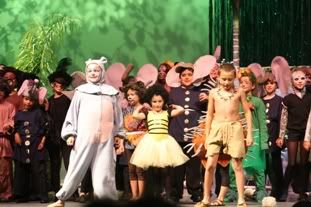 Jungle Book
Rosie
Night Vision Circumcision
Arlo
That and This
This week has been another busy mishmash of Key West events and activities as Spring races along. The last full week of April was another in a long line of frenzied yet fulfilling weeks full of a wide variety of the things that make living in Key West such a wonderful experience.
Sy, Florrie & Jim
Kathy
It started when our friends Sy & Florrie invited us and Kathy's father Jim over for dinner on Thursday evening. It was a great chance to visit with one of my favorite couples. They are an inspiration in that even in their golden years, both are close to 90 years old, they still maintain as active a lifestyle than many people a quarter of their age. We see them at events all over town and they are on the go constantly. In fact, after dinner, they decided to join Jim & I in attending the final Key West High baseball game of the season. Jim was curious because Key West was taking on the Hingham Harbormen, from Hingham, Massachusetts. The Conchs squeaked out a 7-6 victory on a walk-off double in the bottom of the seventh.
GLEE fundraiser
Relay for Life
Friday was really busy. We started the evening out at the Bottlecap happy hour fundraiser for GLEE which also served as a birthday celebration for our friend Alison Higgins.
Betsy, Rosie & Eric
Next it was over to the track at HOB school for the Key West Relay for Life. There many of our friends were walking to raise funds for Cancer research. They include many cancer survivors including our little friend Rosie, who thankfully has completed her treatments and is cancer-free. It was a special moment to see Rosie there after all she has been through and to realize that almost everyone waking in the event had some sort of experience with cancer. The event is a celebration of the will of people to beat the disease and hopefully to raise funds that will someday lead to the discovery of something that can cure or combat the disease. One of the highlights of the evening was watching a band made up of young HOB students with the brilliant name of "Night Vision Circumcision".
Next we headed over to Key West High to catch a performance of the latest Keys Kids musical production, "The Jungle Book". The show was another fun triumph for Keys Kids. The young girl who played Baloo in the cast B production that we saw was especially excellent. It was a great time.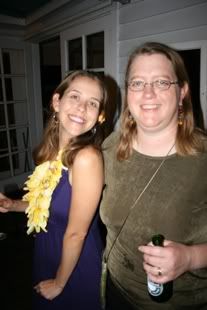 Elena & Nancy
Holly & Craig
Saturday night, it was another paced evening. It began at the birthday party for our friend Elena. Though it is hardly fair to me that in the years that I have known her, she doesn't seem to have aged at all, in fact she seems to have the gift of perpetual youth that makes me suspicious that she has made some sort of unholy deal with some deity. The party was great fun, highlighted by the wonderful gift to Elena by our friends Ashley & Arlo of a scene from her favorite film, "Dirty Dancing". It was classic.
Arlo & Ashley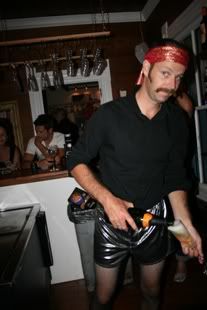 Ian
After the party we headed over to Point5 for another party, this one hosted by our friends at Key West Burlesque and called "Fishnet & Truffles" to honor the birthday of Burlesque co-founder Marky Pierson. It was another great party. We capped the evening off with a late night trip to the Green Parrot to catch the last set of the night by one of our favorite Miami bands, The SPAM All-stars.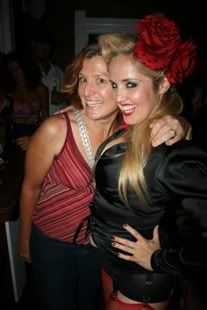 Kathy & Tatah du Jour
Wendy & Scott
The SPAM All-stars