Drag Racing
Drag Racing
April 18, 2010
Home again in Key West and right back to the craziness that makes our island community so special and interesting. This week is the Conch Republic Independence celebration, a week-long series of wacky events designed to recognize the Florida Keys 1982 secession from the United States. The secession was brought about by a Federal roadblock erected by the Border Patrol at the entrance to the Keys. The roadblock didn't last, but the memory of the event is still fresh in the minds of the organizers of the celebration.
The celebration offers all sorts of crazy entertainment options over the course of the week and one which I had never attended previously is the Great Conch Republic Drag Race which is held in the 800 block of Duval Street. Drag Racing in Key West has an entirely new meaning, with contests that do not feature high-octane machines rather, high-heeled Dragsters of a different sort.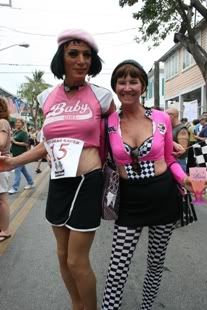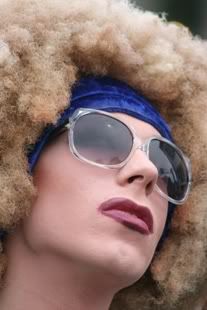 Drag Queens, female impersonators all decked out in high-heels, caked on make-up and tight dresses compete in running races through an obstacle course set-up along Duval Street that involves strength, stamina and endurance as well as the ability to navigate the tricky course in high heels. Heels that must be at least 3 inches each to be able to compete.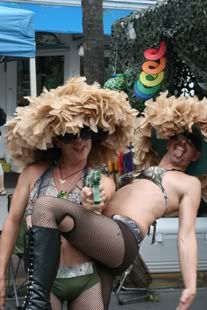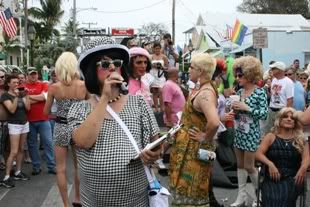 The races were held throughout the afternoon on Saturday as the Drag Queens competed before a huge crowd that assembled to witness the hilarity, which is all held as a benefit for charity, as most Key West parties are. It was a fun, entertaining, interesting and totally Key West type of event as both the participants and crowd had a great time.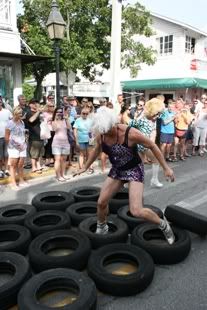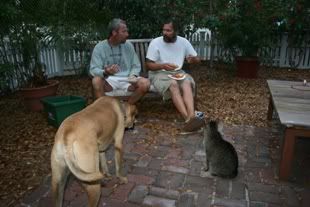 Bruce & Johnny
Saturday evening, I joined my friend Bruce Darby, who was in town for the weekend from his home in Estes Park on his way to the Bahamas, at a cookout at our mutual friends Johnny & Tara's home. Next, we headed over to Island Alchemy where another friend, artist Elio Hinds was having a showing of some of her new work.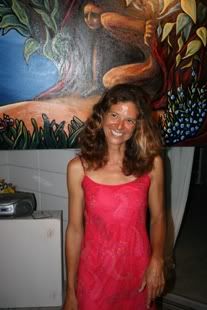 Elio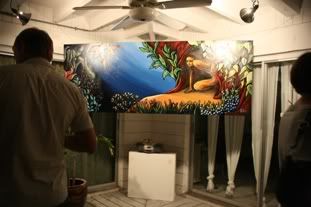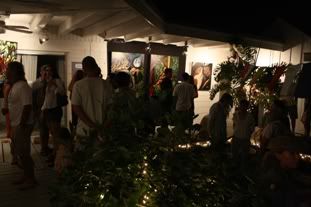 It was a beautiful night for an art gallery opening, especially one held in the open air courtyard of Alchemy. A great crowd turned out for the show and Elio and her work both looked radiant. Her work continues to evolve and expand and it was great to see it come together at the show. If you are interested, you can learn more by visiting Elio's website which I have linked below.
Richard, Rick, Mystery Woman & Bruce
Conch Republic Days
Elio Hinds Art
Island Alchemy