Paynes Prairie
April 1, 2010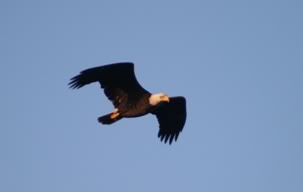 Bald Eagle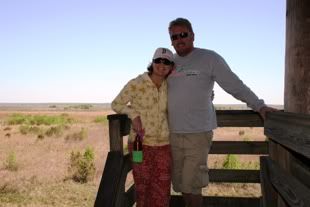 Paynes Prairie
Paynes Prairie is one of the most interesting and biologically diverse state parks in Florida. Spread over 22,000 acres, the park features twenty distinct wildlife habitats highlighted by the 16,000 acre marsh/ wet prairie that is the centerpiece of the park. Kathy & I set up camp in the beautiful public campground.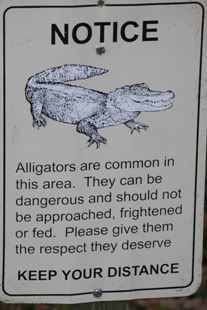 The campground is located in a wonderful pine forest located near the shore of the largest lake in the park, Lake Wauberg. The weather was practically perfect, with beautiful sunny days followed by clear, crisp evenings under a beautiful starry sky.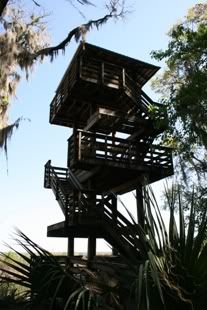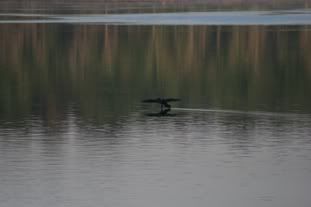 The park is home to an astonishing amount of wildlife, including somewhat unexpected herds of bison, wild horses and wild cattle, which proved to be elusive in spite of our best efforts to see them. The expansive prairie provides excellent habitat for these animals that have been reintroduced to their historical home. There is also a wide variety of more typical fauna such as bobcats, alligators and deer. Kathy & I saw a bunch of wild turkeys and were able to see many of the 270 species of birds that call the park home.
Wood Stork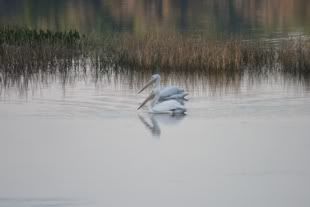 I was able to get some decent photos of bald eagles, ospreys, hawks and even a wood stork. The best viewing opportunities proved to be along the shore of Lake Wauberg early in the morning. It was perfectly quiet, with no one around and the perfect setting to watch birds dive into the lake seeking fish. Eventually I ran into a wonderful professional photographer named Greg Stephens who was out photographing with his young grandson, you can see some of his wonderful work using the link below.
Paynes Prairie was visited in 1774 by famed naturalist William Bartram and today has been restored in large measure to that pristine state. It was the state's first Nature preserve, receiving its dedication in 1971 and is a US National Natural Landmark.
Dakota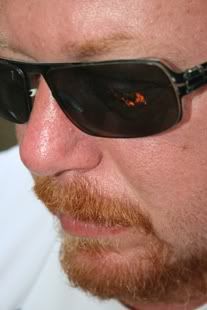 Kathy & I had a great time camping. We spent a lot of time bike riding along the trails, including the lake trail and the Jackson gap trail, where we came across an amazing old abandoned house. Some of the trails were flooded over a bit due to recent rain, but we slogged our way through those low-lying areas.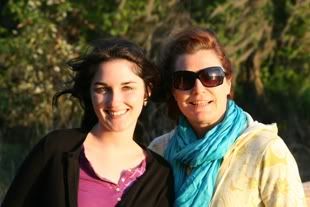 Dakota & Kathy
Dakota joined us one evening, coming out to hang out around the campfire and eat our camp meal complete with tasty Smores. It was a great few days in a beautiful and amazing place.
Photography by Greg Stephens
Paynes Prairie