Literary Landmark
March 23, 2010
Hemingway House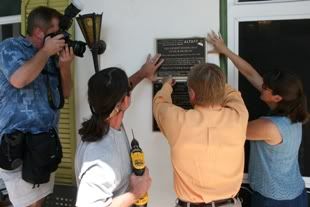 Literary Landmark
It has been so crazy the past week or so that I am suddenly falling behind on Blog postings, not so much on a chronological basis, but because there are so many activities happening that I find myself suddenly behind by a week or more, with no real let-up in sight. So the two events covered in this entry actually took place more than a week ago, and seem to have been even longer ago than that already.
The first was the designation of the Ernest Hemingway House as a Literary Landmark.
Cynthia, Annette, Betsy, Fran, Nancy, Kris & Les
Les Standiford
This is the final year for me as a Board member of the Friends of the Key West Library and it is sort of cool to go out with such a spectacular event. The Friends joined together in support of the Hemingway House and the staff of the Key West Library (notably Kris Neihouse and Nancy Klingener) in the designation ceremony.
The Hemingway House was the home to Ernest Hemingway and his second wife Pauline for nine years during the 1930s. It was easily the most prolific time of his life as he wrote 70 percent of his lifetime works while living in the house, including "For Whom the Bell Tolls", "The Snows of Kilimanjaro", and his only novel set in Key West, "To Have and Have Not".
Jack & Melissa
There are seven other Literary Landmarks in Key West, the most in the state of Florida, including former homes of Poet Elizabeth Bishop and playwright Tennessee Williams, but for some reason Hemingway had been until now overlooked. The ceremony featured a presentation by noted author Les Standiford and the presentation of the Landmark plaque that was affixed to the front of the house under a perfectly beautiful Key West day.
Kris, Les & Nancy
The other event that Kathy & I took in two weekends ago; was the annual Marathon Seafood Festival. We drove the 50 miles up to the Festival to enjoy the wonderful selection of fresh seafood from the Florida Keys at the huge and enjoyable event. There are all sorts of informative and enjoyable vendors as well as a weekend long schedule of live entertainment. While we were there the old Keys stand-bys, Howard Livingston and the MM24 band were on stage. Kathy's father Jim had not seen them before and he got his first taste of the old Johnson motor Margaritaville maker.
Jim & Kathy
Howard Livingston
The Seafood Festival is definitely worth the drive and we all had a great time. It's nice to see a different part of the Keys and to run in to our Marathon friends. The food was really good this year as well.