Super Bowl Pre-Partying
February 7, 2010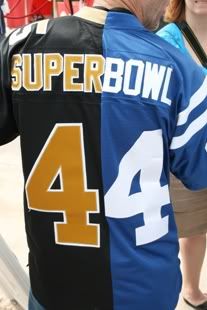 Danny, Andy & Adam
Super Bowl Pre-Partying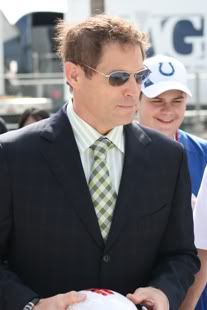 Steve Young
The day prior to the Super Bowl was a long day of activity on South Beach. In addition to the celebrity Beach Bowl that I attended, I also spent much of the day just roaming around the beach soaking in the sun and all the pre-game festivities. The NFL set-up a huge area for fans called the NFL experience where there were all sorts of sponsor displays and activities including many appearances by current players who would mingle with fans.
Derrick Brooks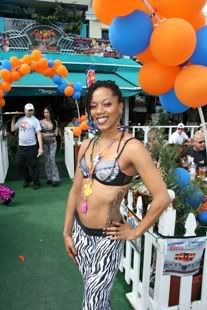 I also watched a little of the ESPN crew filming their analysis broadcast from the beach-studio that they had set up. It was a crazy and hectic day, but really enjoyable for the people who choose to come out. With Ocean Drive open for pedestrian traffic only, it gave the entire beach area a party feel. All the bars and hotels along the strip were decked out in the gear from the teams, though New Orleans fans outnumbered Colts fans at least 4-1. I think many people drove down from New Orleans just to be a part of the action with no intention of actually attending the game.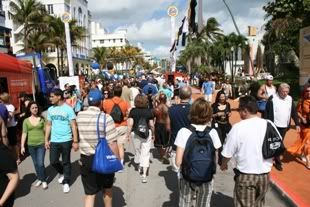 I saw a bunch of current or former NFL players including Warren Moon, Eli Manning, Steve Young, Cadillac Williams, Willis McGahee and Derrick Brooks. I also visited a cool display of old memorabilia before heading back to the hotel to get ready for another late night in Miami.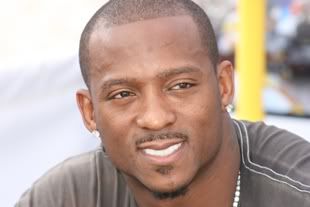 Willis McGahee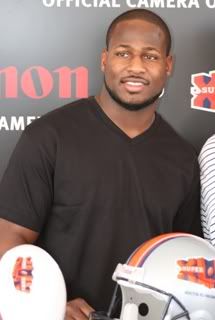 Cadillac Williams
My friends from Indianapolis had all arrived and we have a table for 18 reserved at Morton's Steak House in downtown Miami. We sort of dominated the entire place, which is a favorite among Colts players. While none were there while we were there, tennis star Andy Roddick did show up. Dinner was great and it was great to be with so many Hoosier friends here in South Florida.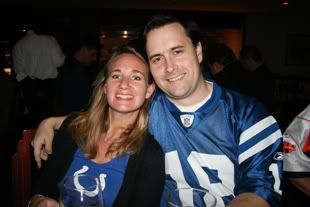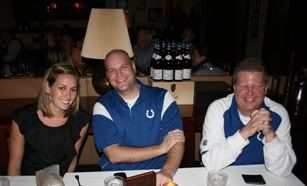 Dinner at Morton's
My friend Drew who was hooking me up with my ticket for the big game couldn't make it downtown for dinner from South Beach because of the huge traffic snarl, so after dinner a few of us headed over to meet him and pick up our tickets. I ended up staying in South Beach and hanging out with Drew for a while as he conducted business in the fast paced world of ticket broking. It was a fun and fascinating experience. He really came through for me, hooking me up with a seat 14 rows off the field in the lower level Colts side endzone.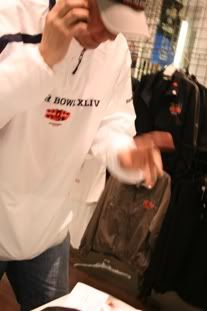 Drew- The art of the deal
Before heading back, I checked out my favorite Miami band Suenalo at Jazid for a few songs before heading back across the causeway for a brief stop at the Blue Martini lounge before finally getting tack to the hotel for some needed sleep.
Tickets First Class
The Blue Martini