Key West Literary Seminar-II
January 10,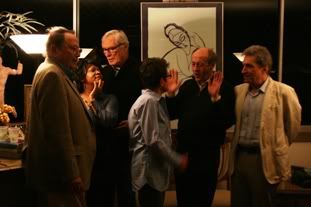 Richard Wilbur, Rita Dove, Mark Strand, Kay Ryan, Billy Collins & Robert Pinsky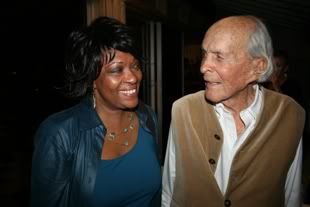 Rita Dove & David Wolkowsky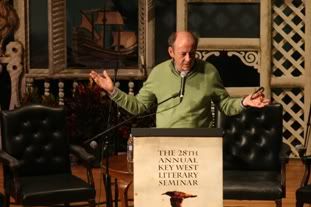 Billy Collins
Key West Literary Seminar-II
Elena & Ian
The incredible exploration of the past 60 years of American Poetry at this year's Key West Literary Seminar continued throughout the week with incredible readings inter-spaced with lively and often humorous panel discussions with the panelists during which the meaning and mechanics of the creative process were more fully explored.
Rhina & Alfred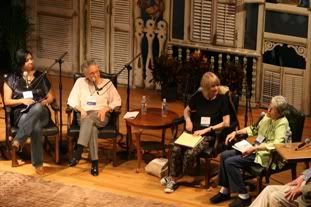 Erica Dawson, Rhina Espaillat, Rachel Hadas & Maxine Kumin
I kept busy much of the weekend, overseeing the wonderful volunteers while trying to slip in and see as much of the seminar as possible. I really enjoy meeting the fascinating people who attend the seminar. The registrants come from around the country as the seminar has truly reached world-class status and many of the attendees are poets and writers themselves. It makes for a tremendous audience as well, which the writers who come always seem to appreciate.
Rhina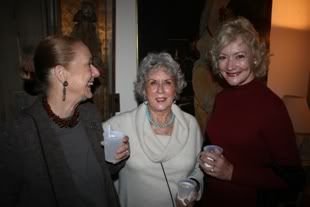 Judith, Liz & Claudia
The seminar offers plenty of opportunity to socialize as there is some sort of social gathering every evening. Receptions, performances, parties and the like, all of which are attended by the panelists and attendees alike, giving people a chance to mingle and chat with their literary heroes in a relaxed and intimate setting that is not found at most literary events.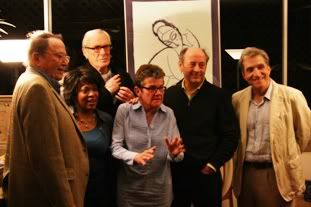 Richard Wilbur, Rita Dove, Mark Strand, Kay Ryan, Billy Collins & Robert Pinsky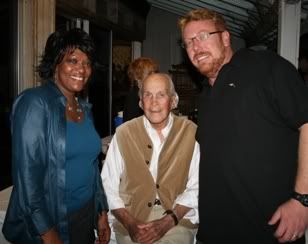 Rita, David & Michael
In addition there are a couple of smaller, more intimate private functions that are for the writers, board and staff of the seminar which allow the writers to interact with each other in a more private setting. One of these is the annual party hosted by David Wolkowsky at his fascinating roof-top apartment and which features many of the local glitterati as well . as the seminar crowd.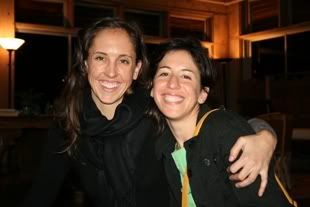 Sharon & Ashley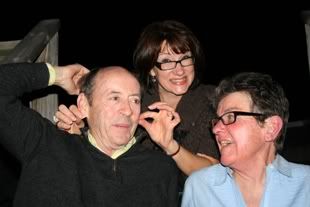 Billy, Suzannah & Kay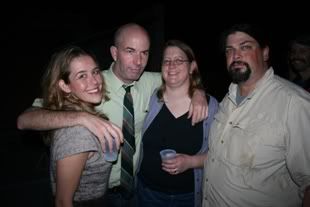 Elena, Jason, Nan & Mark
Wolkowsky is a legendary figure in Key West literary history. He famously developed the Pier House resort and has entertained a virtual who's who either at the resort he developed, at his amazing private island home on Ballast Key or at the funky rooftop location that he once again opened for the seminar writers.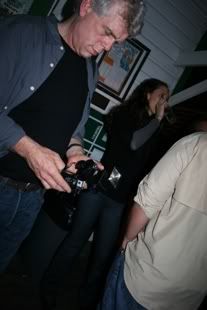 Curt Richter
The apartment features an incredible collection of fascinating works of art, curios and full of memorabilia from his incredible life. But really the people gathered are the most interesting and the Poets and Writers seem to feel a sense of ease and relaxation while there. It was an amazing evening.
Shakti & Ian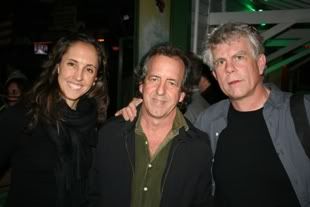 Sharon, John & Curt
You would think that working for fourteen hours then attending receptions and parties would be enough for one day, but many of the working crew of the seminar and our friends headed out for some late night celebrating at the Green Parrot. It made for a very long but fully satisfying day.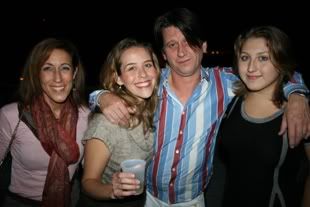 Martha, Elena, Frank & Lera