Xmas Party Extravaganza
December 21, 2009
Dancing at Blackfin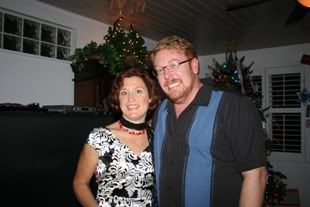 Xmas Party Extravaganza
Greta & Tom
As busy as our lives sometimes are, we very rarely experience an evening that we did this past Saturday when we made it to four separate holiday parties on the same evening. The evening began at 6 pm and we didn't arrive back at home until after 3 am Sunday morning, which just so happened to be Kathy's birthday. Nine consecutive hours of spending some amazingly fun times with many of our best friends; celebrating Kathy's birthday and all manner of holiday party surprises and adventures.
Carl & Kathy
Eithne, Heidi & Kathy
We started the evening out at a holiday cocktail party at the home of our friends Heidi and Dennis. It was a great kick-off to a long night of holiday cheer. There was great food, libations and wonderful company in their beautiful home on Patricia Street. As much as we would have enjoyed staying longer, we had to leave to make it to the next batch of holiday parties.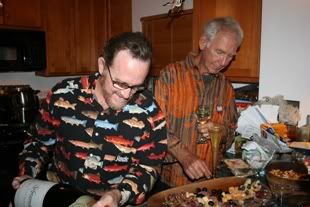 Tom & Michael
Our next stop was at the Key Haven home of friends Tom & Greta Ford. Greta is one of the water aerobics instructors at FKCC and their party was more of the same merriment, More food, more friends and a few more drinks. It is always enjoyable to get to see how different people live and how they decorate for the holidays. While there, we were able to see Santa Claus visit, riding around on the back of a Summerland Fire truck through the Key Haven neighborhood is an annual holiday tradition.
Wedding Surprise!
We actually followed the truck towards our next destination, in a different section of Key Haven to the home of our friends Greg Elliott and Beth Wilson, who had a big surprise for us when we arrived, announcing that they had been married earlier in the week in a small sunset ceremony on Greg's boat. What a great surprise to everyone! They had waited to announce it to their guests at the holiday party and we even got to see a beautiful slide show of photos from the wedding.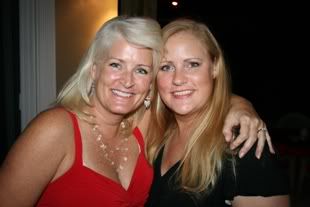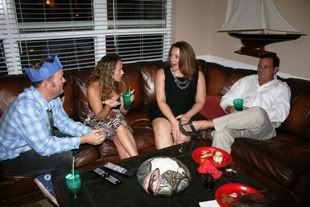 Graf, Eileen, Nadene & Trevor
The announcement certainly added to the festive celebratory mood of the evening. Congrats to Greg & Beth, we are so thrilled for you both! We stayed at this party until sometime after midnight before heading downtown for the final piece of the party puzzle.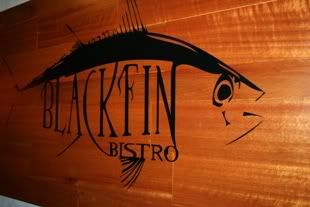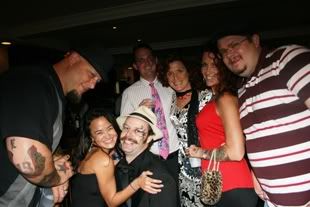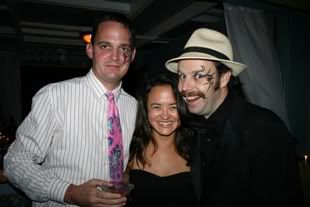 Jolly, Natalia & Ian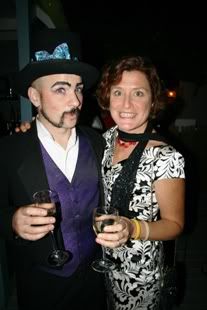 Marky & Kathy
Our friends at Key West Burlesque had wrapped up their holiday show (which we saw last week) and to celebrate another huge success they had a wrap party at the new Duval Street restaurant bar the Blackfin Bistro. The place was packed with cast, crew, friends and supporters of the Burlesque troupe which is headed up by the luminous Tatah Dujour and Marky Pierson. We love the burlesque performers because they are so talented and creative and they certainly know how to have a good time.
Tatah & Marky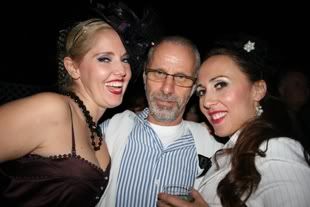 The party lasted into the wee hours of the evening and was still going strong when we finally called it an evening around 3 AM. Exhausted, yet thrilled to have shared a wonderful evening with so many of our friends. Kathy & I feel truly blessed to have such an incredible group of friends and to live in such a great community.
Kathy & Beth