5th Annual Key West Dachshund Walk
01/01/10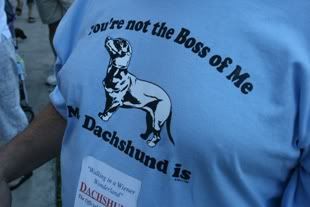 5th Annual Key West Dachshund Walk
The end of the year in Key West is a crowded and festive time. The streets are packed with tourists who head down to enjoy what has been rated as one of the top five New Year's Eve celebrations in the United States, just behind Times Square, Las Vegas and New Orleans. There is a ton of interesting stuff to do as the clock strikes midnight, whether you prefer the classic lowering of the conch shell atop Sloppy Joes's, the lowering of the Wench at Schooner Wharf bar, being live on CNN worldwide at the lowering of Drag Queen Sushi in a giant shoe at the 801 bar or the newest option, the Ocean Key House Pier performance by Key West Burlesque.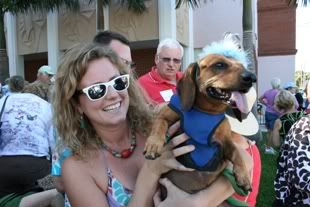 Esme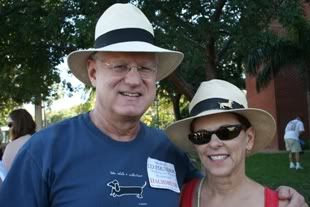 Dan & Ruth
One of the coolest, most eclectic events is held New Year's Eve day at noon, the annual Key West Dachshund Walk. This is the fifth year for the popular family-oriented celebration of the wiener dog. Organized by our friends Ruth Reiter & Dan Metzler, the event has grown into a must see event that is popular with locals and tourists alike. This year the official count was 156 dachshunds. It sure seemed like a lot more. There is no question that there were a ton more people both viewing and participating than in any past year as the parade of wiener dogs stretched more than two blocks long and crowds lined the sidewalk to watch.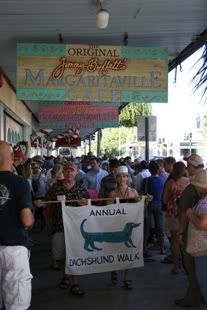 Ruth & Dan have asked me to photograph the event since its inception and it is a joy to do, though my presence hardly seems necessary as there is now a large media presence and this year the event made it out over the AP wire again, gaining nationwide coverage.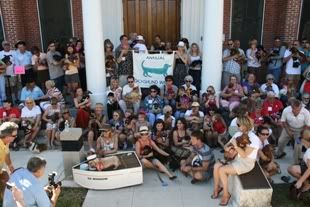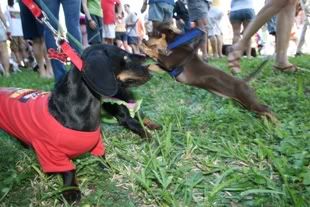 The dachshund owners, both local and visitors, are a fun-loving bunch and an attitude of fun permeates the entire event. My favorite part is the organized chaos that ensues when the annual "group photo" is attempted. Trying to get all those dogs and their owners organized is a hoot. Afterwards, the short walk over to Duval and down one block before returning to the start at Whitehead and Fleming Streets.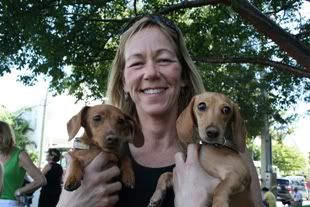 It was a great event and once again set the stage for another fun-filled New Year's Eve in Key West. Thanks especially to Ruth & Dan, who I know had bittersweet feelings about this year's walk as their beloved Dachshund Schumann, who was the inspiration for the event, had passed away this year. The event served as a fitting memorial and a great way to honor the love they had for their wonderful pet.
Nancy 3 Hoffman
Todd & Ruth