Key West Literary Seminar-I
January 9, 2010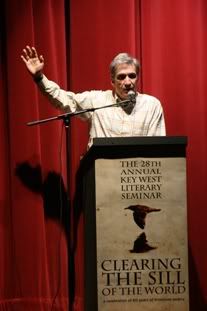 Robert Pinsky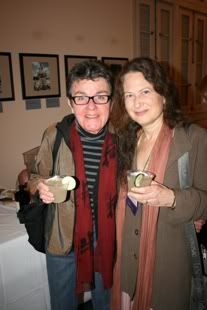 Kay Ryan & Jane Hirshfield
Key West Literary Seminar-I
Richard & Elena in "The Suitors"
The 28th Annual Key West Literary Seminar, "Clearing The Sill of The World: A Celebration of 60 Years of American Poetry" was held this week in honor of Key West's own previous Poet Laureate of the United States, Richard Wilbur. It featured one of the greatest assemblages of American Poets ever including the current U.S. Poet Laureate Kay Ryan, six previous poets laureate and seven Pulitzer Prize winning poets as well as many other esteemed poets and presenters.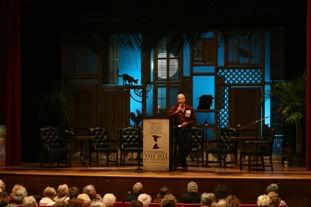 Miles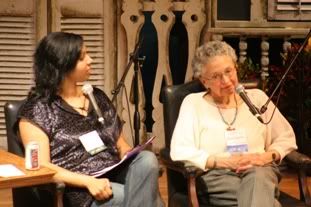 Erica Dawson & Rhina Espaillat
For the past 15 years, I have been an attendee of the Seminar, but this year I was invited to join the Board of Directors and to take over the position of Volunteer Coordinator for my friend Bob Muens, who has relocated to Washington DC. It was a lot of work organizing, but I was blessed with a wonderful group of dedicated regular volunteers that I inherited from Bob including the wonderful and invaluable Margaret Elliot and Doug Mack, who travels at his own expense from Minneapolis to volunteer.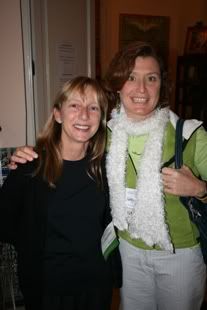 Margaret & Kathy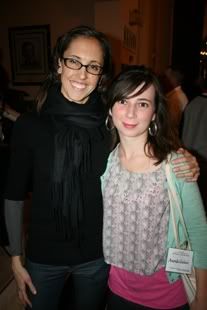 Sharon & Amanda
It was very exciting and a great privilege to be able to participate in all the events that make up the Seminar. It began Wednesday evening at the airport, where a group of board members met to pick up the arriving writers. I was assigned to pick-up the wonderful Poet (and former Poet Laureate) Maxin Kumin, her husband Victor and assistant Suzy and deliver them to their lodging. Next it was on to a wonderful dinner at Azur restaurant for all the Poets. Kathy & I somehow landed a seat at the table with honoree Richard Wilbur, Billy Collins and Suzannah Gilman. I can't even to begin to describe what a great and rare treat that was, so I won't even try.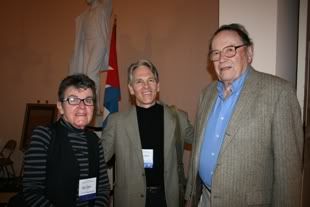 Kay Ryan, Timothy Steele & Richard Wilbur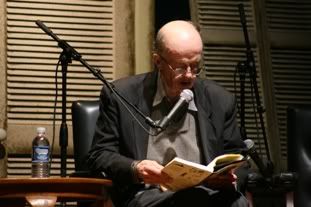 James Tate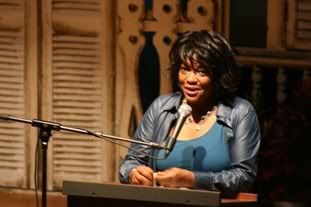 Rita Dove
The seminar itself began early for me on Thursday as my volunteers began assembling to help check in the 375 registrants arriving to attend the seminar. Registration lasted most of the day and into the evening prior to the John Hersey Memorial Address delivered this year by yet another U.S. Poet Laureate, Robert Pinsky. He delivered a mesmerizing address to get things kicked off before the entire crowd headed over to the Audubon House for a Champagne reception.
Mark Strand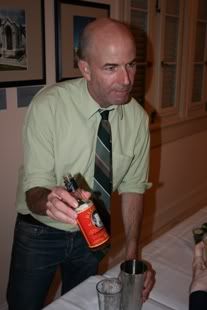 Jason Rowan
Richard, Bill & Monica
Friday, the seminar kicked into high gear with an onstage photo shoot of the esteemed panel followed by a day long series of readings and panel discussions featuring panelists such as U.S. Poet Laureates, Wilbur, Ryan, Collins, Kumin, Pinsky, Rita Dove and Mark Strand. New Yorker poetry editor Paul Muldoon, Pulitzer Prize winners Yusef Komunyakaa, Natasha Trethewey and James Tate and esteemed poets Kiby Congdon, Erica Dawson, Rhina Espaillat, Rachel Hadas, Matthea Harvey, Jane Hirshfield, E.J. Miller-Laino, Harvey Sharpiro, Timothy Steele & Dara Wier.
Group Photo
Yosek Komunyakaa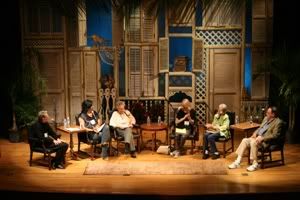 Steele, Dawson, Espaillat, Hadas, Kumin & Wilbur
Friday evening wrapped up with a wonderful cocktail reception and staged reading of Richard Wilbur's translation of Jean Racine's comedy, "The Suitors" by a wonderful cast provided by the Red Barn Theatre that featured such local talent as David Black, Elena Devers, Richard Grusin, Joy Hawkins, Danny Weathers, Arlo Haskell, Brandon Beach & John Wells.