Blue Skies
March 24, 2009
Stephanie & Bayla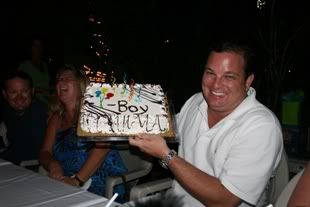 Balloon Boy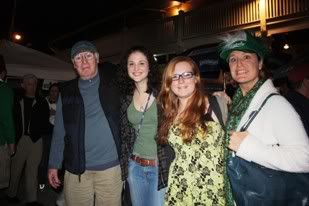 Jim, Bayla, Stephanie & Kathy
Blue Skies
Graf
The first day of Spring slipped by me somehow with barely a notice, suddenly the cold winter, which was the coldest on record seems to have past. Oh a cold front or two may still try to sneak in, but they should be short-lived and progressively warmer. For now, we'll enjoy the two weeks or so of Spring that the Keys get every year before it turns to Summer and we begin to complain about the heat.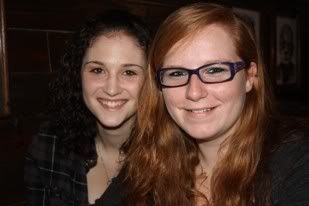 Bayla & Stephanie
With Spring of course comes Spring Break and we have had a relatively busy one so far here in the Keys, at least relative to the past few years. It is still nothing like the throngs that descended upon the island back in the 90s when the party lasted a month or more and thousands of students packed the island. Now it is merely annoying and much more manageable.
Stephanie, Michael & Bayla
This year Spring Break has even brought us a number of visitors. Our niece was down for a week along with a classmate Stephanie to celebrate their final Spring Break of High School as they are seniors set to graduate` in June. They stayed with Kathy's dad Jim, but we spent a good deal of time hanging out with them as they enjoyed the amazing Spring weather, what was actually probably the first week-long stretch of great weather that we have had this year to date.
Mary at Finnegan's Wake
I also had a plethora of visitors in this week for work as all the top brass at RPM Nautical were in town for a series of meetings and to plan for the pending retirement of the wonderful Mary Johnsen. Mary has worked for RPM since its inception and has worked for our founder going back 25 years. Her responsibilities are such that it is going to take three people to replace her, myself among them. She was down for the week as well to participate in the meetings and plan for the transition. We got to spend a lot of time together outside of work as well, which was a true pleasure. Kathy & I both wish Mary the best as she enters a new hopefully relaxed and enjoyable phase of life.
Michael, Kathy & Nadene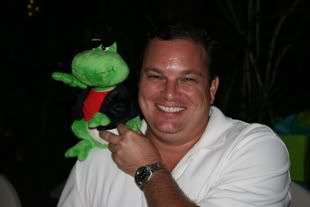 Trevor
In addition to the busy schedule for both me and Kathy, who was busy getting ready for the annual Spring Fair fundraising event at the Preschool, all sorts of activities continued to go on around us.
Betsy & Kathy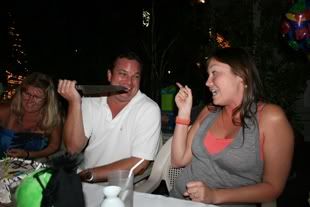 Trevor & Melissa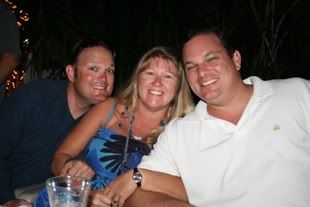 Graf, Fiona & Trevor
We had the wonderful opportunity to join our friends at Origami restaurant to help celebrate the 41st birthday of our friend Trevor "Shooter" Orr aka as "Balloon Boy" due to a recent mishap he suffered chasing after a balloon that kept him from continuing on a cruise. It was a great party with mucho sushi consumed that continued on into the evening as the party moved over to Grand Vin wine bar.
Kathy & Eric
Sadly the week ended on sort of a down note as we attended yet another going-away party. Our friends Eric & Mo Holowacz are leaving the Keys and moving to Australia. Eric has been the Director of The Studios of Key West for the past few years, building it into one of the premier artistic communities around. The party was an opportunity to say goodbye to Eric, Mo and their family as they prepare to relocate. Thankfully TSKW has been left in the capable hands of Jay Scott who has taken over as Director, but the Keys owe Eric a big Thank You for what he has accomplished for our community. Kathy & I wish the entire Holowacz family bon voyage and good luck in their new home.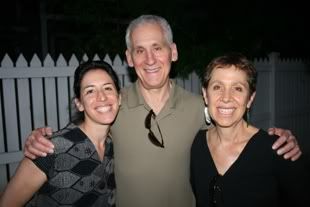 Ashley & her parents.