Conway, South Carolina
April 8, 2010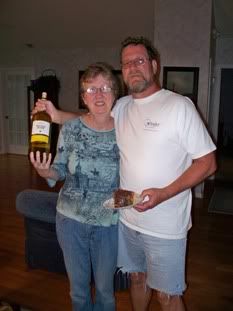 Mary & Thor
Kris & Mary
Conway, South Carolina
For the past twenty-five years, my boss George has had the good fortune to have a woman named Mary Johnsen as his personal assistant. She has been through a lot with him over the years including handling all of the financial responsibilities for the Marine Archeological non-profit that he founded (and which is my employer), the RPM Nautical Foundation. Working from an office that she runs out of her home in Conway along with her assistant Kris, Mary has been a reliable rock for RPM.
Now she is set to retire and the plan is to distribute her responsibilities and me and Kris (who will most likely relocate to Key West) are planning on taking over many of the functions of Mary's job. Mary & Kris have each recently visited Key West, but now it was my turn to travel to Conway for a week of work in her office to gain a better insight into Mary's job.
Mary & her husband Ralph were gracious to invite me to stay in their home and I spent the better part of 5 days working in the office with Kris and Mary and attempting to get a better understanding of the myriad of functions that she performs with seeming ease. What I learned is that I have a lot more to learn and that replacing Mary is not going to be an easy task.
It wasn't all work and each evening, I was able to get out and explore the area- either with Kris or Mary & Ralph or Mary's brother-in-law Thor, all who showed me the sights around Conway and near-by Myrtle Beach. We watched the Butler lose the incredibly competitive NCAA basketball championship to Duke at the Coastal Ale House where my Butler jersey was well received and we headed out to the touristy Broadway on the Beach entertainment center to check it out as well.
Broadway on the Beach reminded me of the tourist centers in Orlando like Universal's CityWalk or Downtown Disney. Shops and Bars all crowded together in one mega-entertainment center. Places like the Hard Rock Café, Margaritaville, the Kiss Café and even some of the old rides from the now defunct Myrtle Beach amusement park, The Pavilion.
Hard Rock Cafe
I also managed to get away one evening to meet my friend Paul Weber, who lives in nearby North Myrtle Beach. Paul is the father of my good friend Jody Selin and I had not seen him in years so I made sure to drop by while I was in the area. I was greeted by Paul and his beautiful dog Rex, given a tour of his beautiful home and the opportunity to catch up before we headed out for dinner at Flynn's Irish Tavern in North Myrtle.
Paul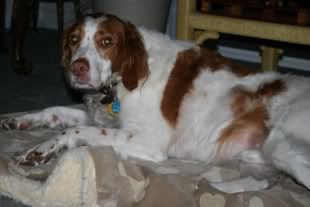 Rex
Paul seems to be doing quite well and we had an excellent time catching each other up on what has been going on. The food and service at Flynn's was good and we had a great time. I still regret not visiting prior to the passing of Paul's wonderful wife Ann, who is greatly missed. I want to thank Paul for seeing me on such short notice and hopefully it won't be so long before we visit again.