West Palm Beach Zoo
April 6, 2010
West Palm Beach Zoo
I am a big fan of Zoos, I realize that some of my friends may feel that zoos are cruel throwbacks that should be abolished, but I can't seem to help myself. The sense of wonder and the excitement in seeing interesting and rare animals up close helped shape my love of creatures since I first went to the Indianapolis Zoo as a child.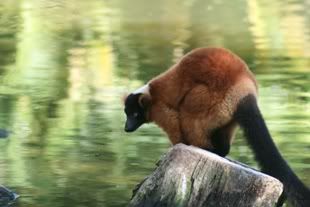 In my mind, I differentiate between good zoos (those accredited by the AZA and which feature good living spaces and well cared-for animals) and bad ones that use animals more for entertainment. Zoos can play a huge role in conservation education and often in actually breeding populations that can help stave off extinction.
One of the better zoos that we have visited lately is the West Palm Beach Zoo at Dreher Park. It was one of the final stops on our Florida getaway. We were passing through on our way to the Ft. Lauderdale airport where I was set to fly up to South Carolina for work.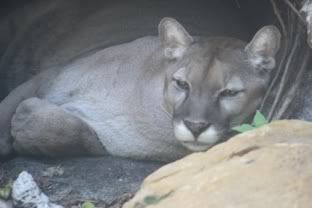 The zoo is a small, yet intimate zoo that is well-designed and offers great viewing opportunities for the over 1700 animals that are featured. The animals seem to have good sized enclosures, for the most part the zoo features smaller to mid-sized animals. No Elephants, Giraffes, etc, instead they have a wonderful selection of smaller interesting animals like anteaters, tapirs and the like.
The zoo is divided into different areas such as the Florida Trail, which features indigenous creatures, the Australia Trail and the Amazonian Rainforest/ Tiger Falls exhibit. Kathy & I managed to take in all of the zoo and slip out just as it was closing for the day.
There were a couple of really interesting exhibits that we enjoyed a lot, one was the anteater exhibit, where we watched the anteater feeding. It was fascinating as the anteaters searched out there food everywhere, even overturning turtles that were in their enclosure seeking food underneath them. The other crazy thing we witnessed, was when two monkeys got a hold of an iguana ( I guess they are a problem in Palm Beach as well) and commenced to play with it as if it were a toy in a horrific yet spellbinding display.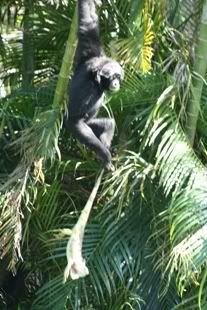 The monkeys swung the creature by its tail, poked and prodded at it and generally tormented the poor creature for about 15 minutes before it was able to escape and swim to safety, dazed but seemingly ok.
safe!
Palm Beach Zoo