Key West Songwriters' Festival Kick-Off
April 30, 2010
Key West Songwriters' Festival Kick-Off
There are many incredible events that take place in our little island community, but easily one of our favorites is the annual Better Angels-Key West Songwriters' Festival. Celebrating 15 years this year, the festival has grown from humble beginnings into one of the best events of its kind in the country, guided every step of the way by the steady hand of Charlie Bauer with the help of an amazing staff that includes our friends Nadene Grossman and Dani Holliday.
Randy Houser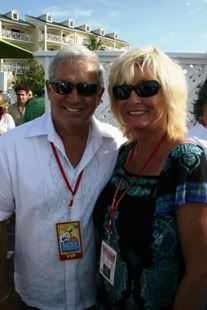 The Mayor & Mrs. Cates
Once again this year the event was sponsored by Better Angels Music Group and BMI, the festival this year brought down over 150 of the finest songwriters working today, mostly from Nashville. At times during the week it almost seemed like Nashville South as the crowds were packed with music industry insiders, executives, producers, performers and fans.
Cyndy & Howard Livingston
The event kicked off this year for the first time with a full-blown concert during the sunset at the Ocean Key House pier featuring the Randy Houser band. This year, I had worked out a deal with the festival to take photographs at as many of their many events as possible and was given a press pass to get better access, starting with the VIP party that preceded the opening concert.
Kathy & Jen
Randy Houser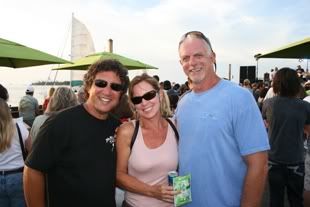 Mike, Jan & Kevin
Randy Houser is a songwriter cut from the same outlaw country cloth as Jamey Johnson- somewhat of a throwback to the classic country music of the likes of Waylon Jennings, Merle Haggard & Johnny Cash and he and his band ripped through an impressive set that included all the hits from his two CDs, "Anything Goes" and " They Call Me Cadillac".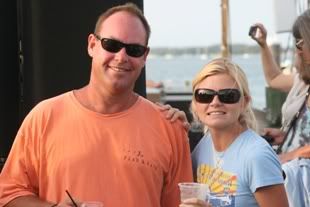 Howie & Jessica
The show was great, the weather wonderful and the sunset awesome, and it was just the start of a long night of music. After the concert at the pier, it was over to the Pier House resort beach for a beautiful night of songwriter rounds that featured the likes of Lori McKenna, Dave Pahanish, Danny Myrick, Kylie Sackley, Damien Horne and others. The beach stage area was packed and the music was great. Personally Lori McKenna & Kylie Sackley were my favorites, and Damien Horne was a revelation.
Pier House Beach
Brenda & Trevor
Finally, it was over to the Conch Republic Seafood Company for another couple of hours of music. The performers there included David Lee, Bonnie Bishop, Brett Jones, Shawn Mullins, Chuck Cannon, Chuck Jones and more. It was another packed venue and more excellent performances that all added up to a late night, even though Kathy & I skipped the late night show at Big'uns Sports Bar. It was only the first of five days of sun-drenched, alcohol fueled country, rock and acoustic music across the island.
Danny Myrick
Key West Songwriters' Festival
Better Angels Music Group
BMI website
Randy Houser website