Battle in the Bay
May 11, 2010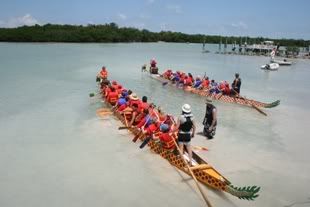 Battle in the Bay
Last year Kathy participated in the 1st annual Battle of the Bay Dragon Boat Festival which was held at Sombrero Beach in Marathon. I was out of town, but she had a great time paddling for her team the Squally HeronCanes which finished in 2nd place a mere 0.7 seconds behind the winning team in Division B. This year she was back again, having joined a new team, Paddles Up, Tweet Up sponsored by Twitter and the Weekly Newspaper, and I actually got to go up with her to spend a day at the beach watching racing.
Paddles Up, Tweet Up
She actually had spent much of the week practicing, heading out on the Dragon Boat that is kept at Parrotdise bar and grill. She was placed on the Twitter team, which is made up of people in a twitter group who connected on-line, she is not a tweeter by any stretch, just agreeing as she did last year, to join whatever team needed bodies.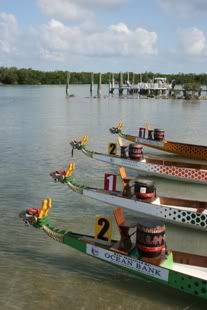 This year 19 teams and over 400 paddlers signed up to participate. Each dragon boat, holds 20 paddlers, a helmsman and a drummer who pounds out a beat that the paddlers follow. The races are a series of 300 yard sprints along the beautiful Sombrero Beach in Marathon. The teams range from the professional (Tarpons, Red Dragons) who come from out of town, to various local teams from Rotary Clubs, The Florida Keys Dragon Boat Club, to teams racing for charities including Heron Peacock Supported Living, Womankind, Stand Up for Animals etc.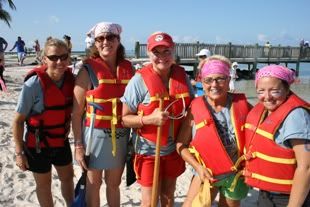 Girls'Night Out
There was also a team consisting entirely of breast cancer survivors (Save Our Sisters/SOS) that co-presented a beautiful Flower Ceremony midway through the racing to honor cancer victims along with the Girls' Night Out Paddle Pushers team. It was a nice moment, one that brought home the spirit of the teams and the event itself.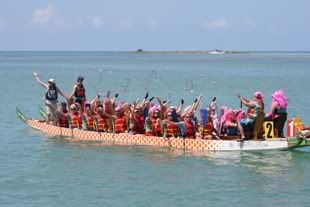 Flower Ceremony
Dragon boat racing has been a sport in China for over 2000 years, but has only recently really begun gaining popularity in the US as thousands of teams forming. Marathon has taken advantage of the increasing popularity to host the Battle in the Bay and teams have turned out to compete in what looks to be a growing fixture of the Keys calendar.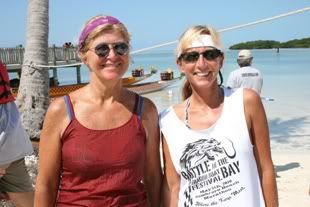 In addition to the boats, the festival also featured arts, crafts, food and beer vendors and even a stage with some live music during the afternoon. All the necessary ingredients for a fun day at the beach and the weather could not have been better, sunny and warm with a bit of a breeze that picked up as the day went on.
Amy
Kathy's team did fairly well all things considered. They went off in the very first race of the day with only 14 paddlers, but their time and crew size was much better in their second heat- a victory over the Girls' Night Out team. In fact they qualified on time for the championship race of their division. In the championship final, they faced the Real Rotary Rowers, a team made up of Rotary Club members.
Jim Brooks & the Rotary Rowers
It was an exciting race as they jumped out to a large early lead, unfortunately they could not maintain the pace and with each stroke, you could see the Rotary team creeping up. At the line, Rotary Rowers made a final push to win by all of 1 second. Still the time they set was their fastest of the day, and finishing in second is no small accomplishment for a team that had never practiced together. The Tarpons team won the overall (Division A) title and the 2000 Meter challenge as well. It was a great time. Plans are already formulating to form a team for next year. Let us know if you have any interest.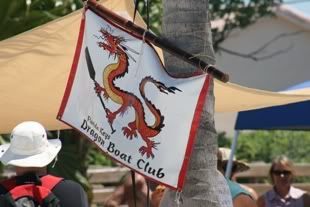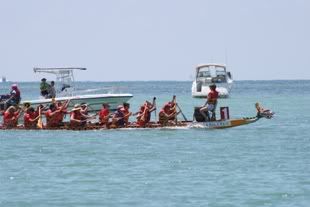 Battle in the Bay Website