Fast Friday & The English Beat
May 22, 2010
Kevin,Abe,Vess,Shannon, Megan, Michael, Tracy & Ted
The English Beat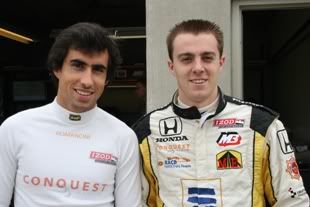 Conquest Racing's Mario Romancini & Bertrand Baguette
Fast Friday & The English Beat
In each of the past few years, I have traveled twice each May up to Indianapolis to attend the first weekend of qualifying and two weeks later, The Indianapolis 500. This year the Indianapolis Motor Speedway drastically altered and reduced the schedule that the track was open, condensing two weekends of qualifying into a single weekend the week prior to the race. For this reason, I wasn't planning to go to the qualifying weekend this year, but as fate would have it, some personal reasons precipitated a trip to Indianapolis and I ended up going up to Indiana that weekend anyway.
Dario Franchitti & Dan Wheldon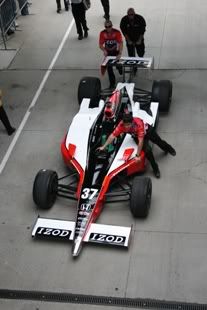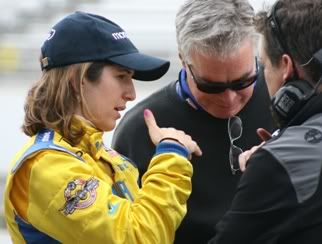 Ana Beatriz
I was able to get out to the track for part of the final practice session, Fast Friday and get the chance to enjoy hanging out with some old friends in addition to taking time to attend to my personal matters. It could not have worked out any better all things considered. A large group of us even got to head out to dinner and go see the 80s ska band, The English Beat at Radio Radio on Friday evening.
Danica Patrick
Davey Hamilton
The month of May in Indianapolis is dominated by the Indy 500 and many of my friends continue to have various levels of involvement with the race, from my friend fireman Bob, who works on the Indy Racing League's Holmatro Safety Team, working to responding to Indy Car wrecks, to my friend Jason who works on the pit crew for Marco Andretti, to my friends who own Brugge restaurant, proud associate sponsors of two Conquest Racing entries driven by rookie drivers Mario Romancini & Bertrand Baguette.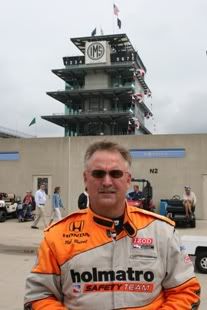 Bob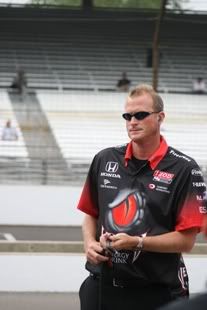 Jason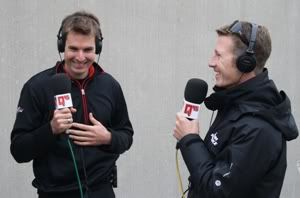 Will Power & Ryan Briscoe
It was the sponsorship commitment that brought Brugge co-owner, actor Abe Benrubi from New Orleans, where he is filming a new TV series "Memphis Beat". Abe has previously had roles in many films, but is best known for his outstanding work on TV shows such as, "Parker Lewis Can't Lose", "E.R.", "Men in Trees" and most recently "Happytown". It was nice to be home and to get to spend some time with Abe, as he keeps a busy schedule and we are rarely in Indianapolis at the same time.
Abe greeting fans
Rafa Matos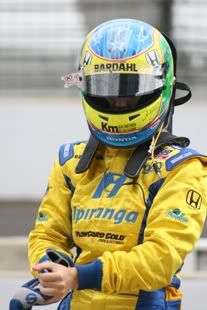 Ana Beatriz
The track was busy on Friday, the condensed schedule and lack of track time earlier in the week due to rain, made for a mad rush to get testing time in and most of the drivers took advantage of the cool overcast weather to make practice runs. This year the field of drivers attempting to qualify includes seven rookie drivers and for the first time ever, five women drivers.
The legendary Tom Carnegie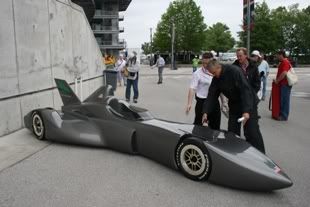 Eddie Cheever checks out the Delta Wing Indy Car prototype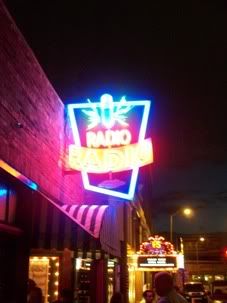 Radio Radio
Friday evening a group of ten old friends gathered at Santorini's Greek Kitchen, a long-time favorite in the heart of the old Fountain Square neighborhood of Indianapolis, which has of late become popular with the hipster crowd. The venue for the English Beat show, Radio Radio, was just up the block and the restaurant provided an excellent selection of authentic Greek food.
The English Beat –"Tenderness"
The English Beat are known simply as The Beat everywhere except in the US and have been around in some incarnation since 1978. Founding member, guitarist and vocalist Dave Wakeling still fronts the band and they certainly still sound really, really good. The show was very impressive and they played almost all of their own hits from the 80s like "Mirror in the Bathroom", "I Confess", "Tears of A Clown" and a great version of "Save It For Later" that featured a mash-up of Pearl Jam's "Betterman". They also played a number of General Public songs since Wakeling was also a member of that popular ska band.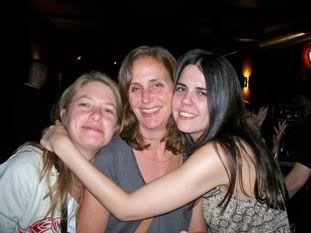 Shannon, Tracy & Megan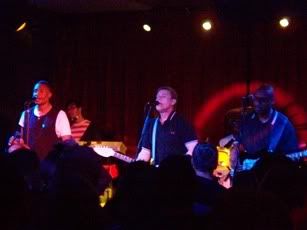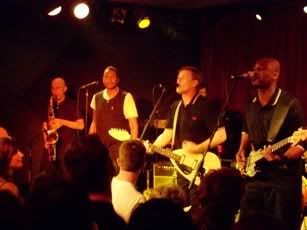 Conquest Racing
Dave Wakeling website