Oil & Water
June 15, 2010
Learning to Clean Oiled Birds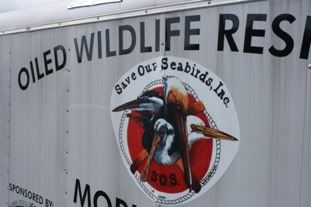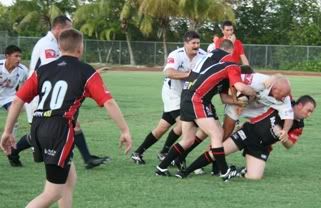 Rugby Match
Oil & Water
I have always attempted to keep this blog mostly positive and free of much of the negativity and bad news that is so prevalent in our society today and can easily be found on any number of other sites. I try to refrain from addressing politics, religion and any other potentially hot-button issues, keeping in mind that I have many friends and possibly readers of this blog who have their own personal beliefs and certainly don't need to have mine or Kathy's foisted upon them in such a public setting.
The on-going disaster of oil free-flowing into the Gulf of Mexico is an unfortunate exception. It is so horrible, so massive and so encompassing that I can't in good conscious avoid it any longer. Without getting into the blame game or focusing too much on the details of what anyone with a television can see is the worst environmental nightmare in our nation's history. I want to focus on how the spill has impacted us to date and what is happening here to prepare.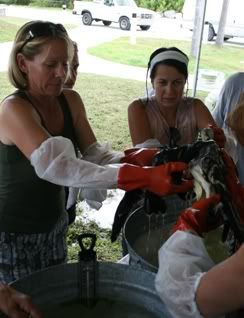 Debbie & Michelle of Key West Wildlife Rescue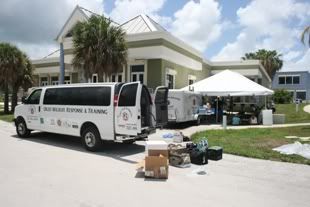 First off, I want to be clear that as I write this, there is no oil in the Keys or are we under any immediate threat. In fact, other than the blazing heat, this has been one of the nicest summers in recent memory as far as the crystal clear water and beautiful boating and diving. This is important because at the first sign of a few tar balls (which were not from the Gulf disaster), the media created a frenzy which caused people to cancel trips, hurting our delicate economy.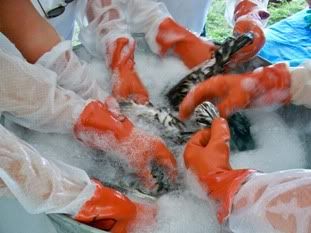 Having said that, Key West and the Keys have gone about organizing and preparing for the worst case scenario that we hope never comes. There is a great article in TIME magazine (link below) that details the efforts of many locals in spite of the frustration they feel in dealing with Federal, State & Local officials and the rep that BP sent to open a claims office here. I attended a couple of meetings organized by C.E.R.T.S (Citizen Emergency Response Team Services) at Sippin' where officials and concerned citizens spoke about the crisis. Just attending the meetings is frustrating as it becomes redily evident that as much as people want to help, that officials are unprepared (at best) or unwilling (at worst) to accept the assistance.
C.E.R.T.S.meeting
I decided that it might be best to just get as prepared personally as possible in case the Keys are impacted. So I signed up to take the OSHA 24 hour HAZWOPER –hazardous material class and last weekend took a 9 hour class at FKCC entitled "Oiled Wildlife Response" that was taught by Lee Fox, director of Sarasota based "Save Our Seabirds".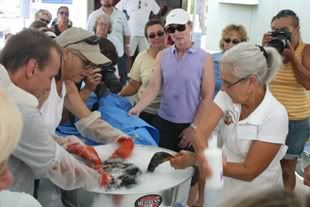 Lee
The informative class was about half classroom work and half field experience learning the techniques to clean oiled seabirds. We used roadkill, dead ospreys and cormorants to train and to learn the procedure to clean the birds. Hopefully I will never have to put this skill to work locally, but being prepared can't hurt. Now I have to get some practical experience working with live birds at the Key West Wildlife Rescue.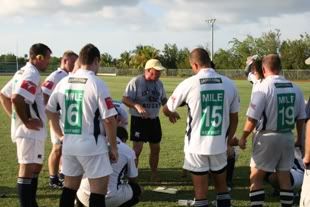 Coach Barry & Key West Rugby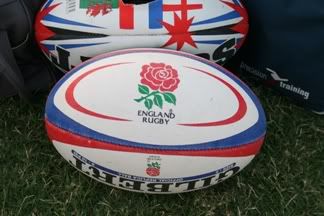 The Oil crisis is not the only thing that was going on this week in Key West. I headed out last Friday evening to watch a series of competitive sporting events between the sailors aboard the visiting British Royal Naval Ship HMS Manchester and local soccer and Rugy clubs. It was the latest in a series of friendly matches over the past few years and the first I had seen.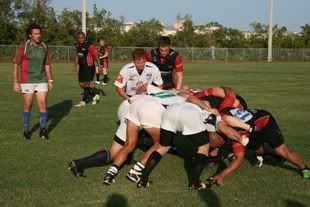 The Rugby match was especially intense. The wicked 90 plus degree heat and direct sun took its toll on the players with the Brits especially affected, most likely contributing to their 19-10 defeat at the hands of the Key West Rugby Club. The Key West Club looked great and it was a tough, tough contest. Incredibly difficult conditions prevailed. The Soccer games were a split with the Brits claiming a 2-0 victory in the B group and losing 9-0 to the Key West A team, composed mainly of players from Key West High. It was a fun, hot night.
Time Magazine Article
Keys Spill.org -Keys Oil Info
Save Our Seabirds