Birthday Bash
September 27, 2007
Nancy, Mark & Jason
Birthday Bash
Turning 40 is a milestone worthy of celebration (or a cause for quiet desperation) for most people. Having three friends all celebrating together is an excuse for a massive party and that was the case last Saturday night at the VFW on Emma Street in the heart of Bahama Village in Key West. Nancy Klingener along with her husband Mark Hedden and good friend Jason Rowan all got together, rented out the VFW, bought kegs of beer and invited a cadre of their friends, many who traveled from around the globe to attend, and threw an awesome and fun dance
party.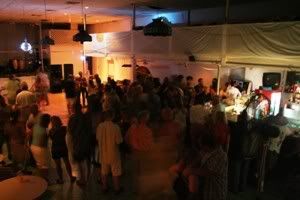 There were so many aspects that made it such a great event, starting with the location. The VFW hall is a throwback to a different era in Key West; it has its own naturally funky vibe and the felt a lot like the warehouse parties I attended in my youth. There was a certain feel of disrepair and neglect which rather than distracting actually added to the ambiance. Of course, without the people filling it, the space would make little difference and the throng that showed up for the bash included a diverse mix of eclectic, interesting and fun people from Key West and beyond. Familiar former residents and friends made the journey to Key West and added to the sense of nostalgic fun that made the gathering special. The third aspect that made the night was the incredible mix of music that the hosts contributed to the evening. Each of them added their own favorites and the wonderful mix of music kept the place hopping late into the evening.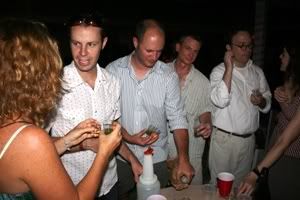 Time for shots!
Margaret, Eric, Mark, Jason, Nancy,Scott, Kathy & Vernon
Elena, Holly, Betsy, Craig & Haven
It was a great party. The photos here don't begin to do the thing justice. In addition, there were difficult lighting conditions, which may have been perfect for the mood of the party but were not so great for photography. In addition it takes a special sort of photographer to effectively capture the feeling of a party, which I certainly was not, especially after a few drinks. I even danced a few times if that gives you an indication of how good I was feeling. Kathy pretty much danced non-stop, as did many in the crowd. Sunday morning, I was feeling none too good; one thing about being 40 or beyond is that hangover recovery seems to take much longer. Hopefully Nancy, Mark & Jason had happy birthdays. Thanks for a great time guys and many happy returns. You can see more pix from the shindig on The Rowan brothers amazing blog site "Not the Motorcycle Diaries" via the link below. It's well worth checking out.
Tom & Eric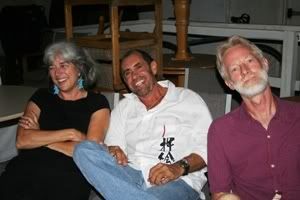 Jody, Tony & Bob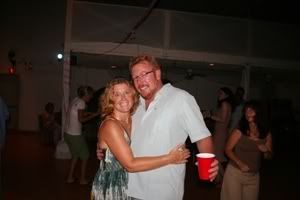 Kathy & Michael
Jason & Ian
http://notthemotorcyclediaries.blogspot.com/