Folks Fest-Day 3
August 20, 2007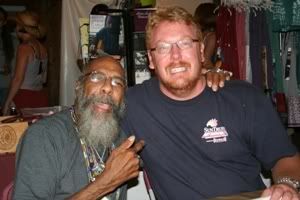 Richie Havens & Michael
Folks Fest- Day 3
Despite the weariness that had set in after two long days of music and a late night on Saturday hanging at the cottage with "There's a bear in the kitchen" Katie, we were up and at 'em again early Sunday morning. Bruce came through again in amazing fashion, fighting off the hoards and once again securing our primo location. Three days in a row is unprecedented and we have to thank Bruce for his dedication to the cause. I think he took it on as a personal challenge and he succeeded mightily.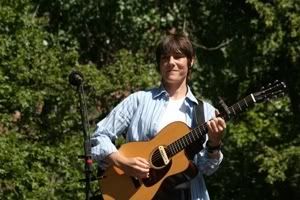 Ellis
It seems at every festival that I attend there is one artist that I was previously unfamiliar with who leaves an indelible mark on me and I become an instant fan. There were a couple this year, but the singer/songwriter who opened the main stage on Sunday is easily on top of the list. Ellis took the stage alone with her guitar and proceeded to amaze the early arrivals with an incredible set filled with laughs and poignant songs that resonated with the assemblage. Her unique laugh was contagious and her self-deprecating humor had the crowd in stitches. She received the first and one of few standing ovations as the roaring crowd called her back for an obviously unscheduled but well deserved encore.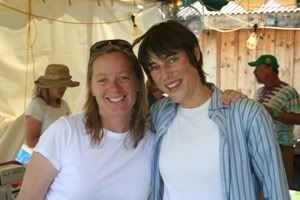 Kate & Ellis
Next up was something completely different, and certainly difficult to categorize with the arrival on stage of Gandalf Murphy & The Slambovian Circus of Dreams. This band from Sleepy Hollow, New York was unlike anything else to grace the stage during the weekend. Dark and mysterious looking, they performed a set of art-rock eclectic music that won over the audience. They were certainly enjoying themselves and the band came out and hung out in the crowd for the rest of the day after their set.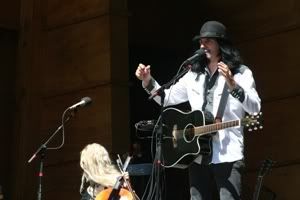 Gandalf Murphy
I caught the later portion of Peter Himmelman's kids show in the wildflower pavilion and missed much of the main stage set by Ireland's The Guggenheim Grotto. Himmelman was great with the kids in a packed pavilion set that saw him invite various children to join him onstage as he played selections from his new CD of kid's songs, "My Green Kite". He would return for a much more improvisational and energetic set later on the main stage, but I actually preferred the kids stuff.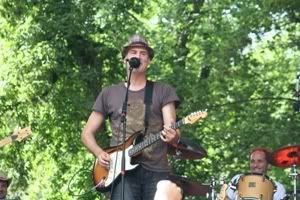 Peter Himmelman
Sandwiching Himmelman on the main stage was a pair of women singers, Serena Ryder and Cheryl Wheeler. Ryder, only 24, played an energetic set that seemed pretty good, though I have to admit that much of the time I spent hanging out in the River. Wheeler was good, a funny sarcastic humor imbued many of her songs and she seems to have a wise but witty outlook that infuses her music.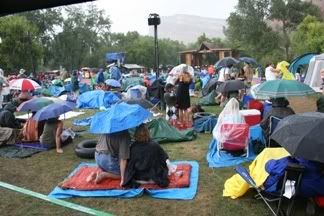 Rain Shower
The final performers were the legendary folk icon Richie Havens and Chris Isaak. Havens, who opened the Woodstock Festival (28 years ago this weekend) and has had an amazing career with more than twenty albums, performed a truly magical set that showed why he has remained so relevant. Chris Isaak seemed at first, to be somewhat out of place in the line-up, but he performed a rocking upbeat finale to the Fest that featured the added bonus of an amazing shooting star that shot across the night sky mid-song that even impressed Isaak enough that he mentioned it from the stage.
Richie Havens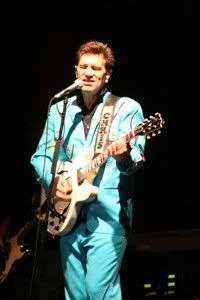 Chris Isaak
It was a fantastic weekend, it is such a joy to be able to relax and spend time with the likes of Kerry & Bruce and their family and extended family. Thanks so much to them and to Kate for joining us from Santa Cruz. We are already planning a return next year.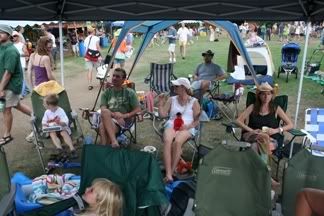 http://www.ellis-music.com/
http://www.slambovia.com/
http://www.peterhimmelman.com/
http://www.richiehavens.com/
http://www.chrisisaak.com/