Indianapolis
May 16, 2008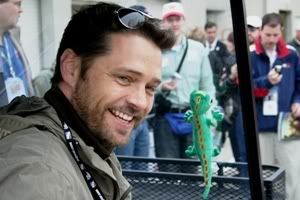 Jason Priestly
Indianapolis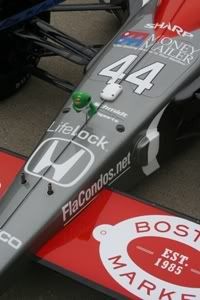 The tragic passing of my fiend LonPaul overshadowed what otherwise was a great weekend spent in Indianapolis. I flew up Thursday evening so that I could attend the Fast Friday final practice as well as the first weekend of qualifying and all of the festivities that accompany the goings on at the speedway.
Max Papis
It was a pretty exciting time because it is the first Indy 500 since 1995 to run under a single unified league, meaning all the open wheel drivers are back and the entry list is as large as it has been in years. An added bonus this year is that our favorite Indianapolis Brewery & Restaurant, Brugge Brasserie has made a deal to be an associate sponsor for the Rubicon Racing entry for driver Max Papis. The team, owned by actor Jason Priestly is attempting to qualify for their first Indy 500 and the official beer for the team is the freshly brewed Rubicon Red. The good news is that members of the Old Dog Crew who happened to be at the Speedway were able to score VIP passes for the Rubicon team chalet and enjoy a little Rubicon Red ourselves. Thanks to Ted Miller for both brewing the tasty beer and for hooking us up.
Ted pours a Rubicon Red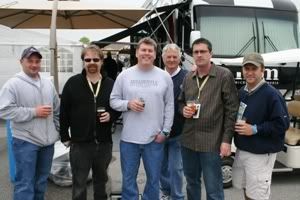 Old Dog Crew enjoy Rubicon hospitality
It was a great day on Friday, tons of traffic on the track as well as a couple of (not too bad) crashes and a scary incident in the pits when Danica Patrick accidently hit another team's crew member in the pits. Thankfully, he was not too seriously hurt. It certainly could have been much worse.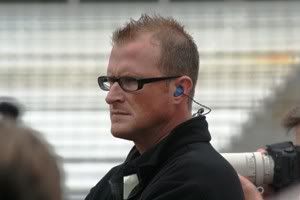 Jason
Marco Andretti
I was able to see a bunch of friends who were taking advantage of the track, including my buddy Jason who was busy working on Marco Andretti's crew for Andretti/Green racing. They had a pretty good day on Friday, topping the speed chart at almost 228 mph. It was a really exciting and fun day. I even got to meet the Governor of Indiana, Mitch Daniels. He is a fairly tiny guy, but seemed pretty nice, though my guess is that his politics are in sharp contrast to my own.
Rain, which has been plaguing the activities at the track most of the month, cut things short on Friday afternoon, it actually was pretty cold and wet and more like March than May, but the forecast for Saturday, Pole Day was good.
John Andretti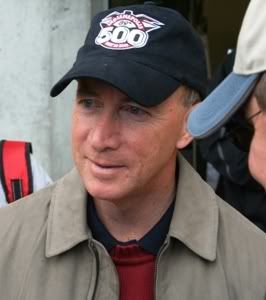 Indiana Governor Mitch Daniels
Bob & Tom's Kristi Lee
Rubicon Racing