Washington DC
July 14, 2006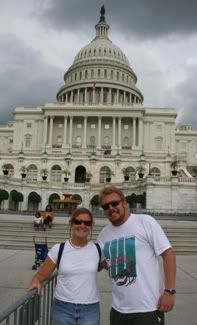 Since Kathy & I have both visited Washington many times, we decided to try and see mostly places that we had not been to previously on our one day visit. We had spent the previous night at a hotel in Silver Spring after the short drive over from Baltimore and we took the red line train into the heart of DC to begin our exploration.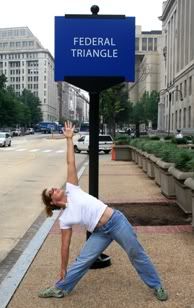 Yoga Anyone?
Our first stop was Ford's Theatre, which was the site of the assassination of President Lincoln. Though the theatre is still actively putting on plays, it has been preserved in much the same layout as it was back in 1865, and the Lincoln box is almost exactly as it was. In the basement, there is a remarkable collection of relevant memorabilia and artifacts from the assassination as well including the weapons used, clothing that Lincoln was wearing, leg irons they held the conspirators in and so on. Across the street, the actual house where Lincoln died has been preserved as well.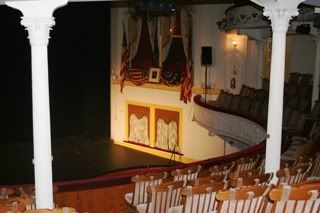 Ford's Theatre
After a quick bite to eat, it was onto the National Mall via the Museum of Natural History which is part of the myriad of Museums that make up the Smithsonian Institute. The museums are situated around the mall which stretches from the US Capitol to the Lincoln Memorial. We visited the National Air & Space Museum, which houses an impressive array of famous aircraft, from the Wright Brothers first plane to the "Spirit of St. Louis" to the Apollo 11 spacecraft.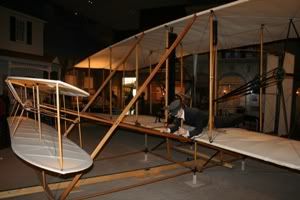 Wright Brothers Plane
Next we cruised through the Hirshhorn Sculpture Garden and on to the newest addition, The National Museum of the American Indian. This beautiful structure displays Native-American artifacts and history in an entirely new light, one that has been assembled from the point of view of the Indians themselves. It is a wonderful collection which is presented in a fresh and exciting perspective; we were there for hours and could not take it all in. Our walk back to the subway included a walk through the National Botanical Gardens and a walk past the heavily guarded Capitol building to Union Station where we caught the train back to Silver Spring to get back on the road.
National Museum of the American Indian