Blowin through the jasmine in my mind
July 22, 2009
Rob
Blowin through the jasmine in my mind
Summer has fully taken hold here in the Keys and the weather has gotten hot, really hot and sultry with the occasional downburst of heavy rain that marks this time of year. I really love it, as the crowds are down and the water is calm and clear and the nights are filled with the scent of night blooming jasmine.
George & Elena at the Bottlecap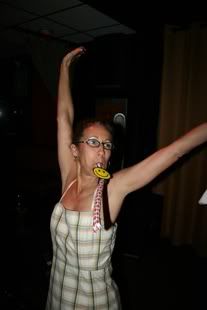 Martha
There seems to be a lot going on as well, which is always nice to keep us busy. One of the coolest things that has been happening in Key West is the weekly Friday night happy hour at the fabulous Bottlecap Lounge. Carmen & Carolyn have transformed the formerly somewhat seedy bar into a beautiful, comfy and fun lounge and have offered the location up to the myriad of non-profits in Key West each Friday evening to raise funds. It has been a great success and has helped position the Bottlecap as a place to be.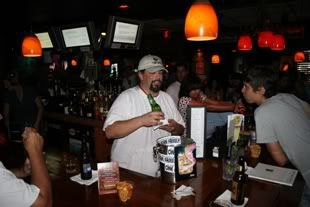 Mark
Ruth & Dan
Last week, it was happy hour to celebrate The Studios of Key West and their upcoming "One Night Stand" event on August 1st. We are quite disappointed that we have a previous commitment and will have to miss this amazing event, we thought we should show our support and attend the Bottlecap Happy Hour which features celebrity bartenders to help bolster earnings. I've posted a link below for info about "One Night Stand"- Do yourself a favor and check it out.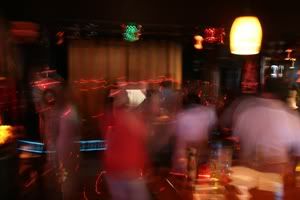 On the way down to the Bottlecap, we rode our bikes past the former location of The Traveler's Palm Guesthouse, which has sadly been demolished. Formerly owned by friends, the place was home to many good times when I first came to Key West 18 years ago. Just a sad note of the constant transformation the island experiences.
This week was also the birthday week for our good friend Rob DiStasi; we attended a birthday celebration at Kelly's Caribbean then went to see Rob & his band, The Prime Movers at Virgilio's later in the week. Rob is a great guy and a good friend and we wish him many happy returns. He seemed to really enjoy the accordion that he received as a gift, and as the accomplished musician that he is, was able to belt out some polka tunes to the delight of the assembly.
The Prime Movers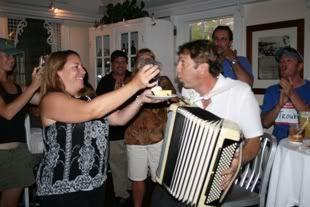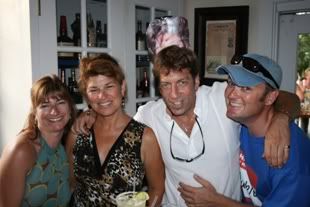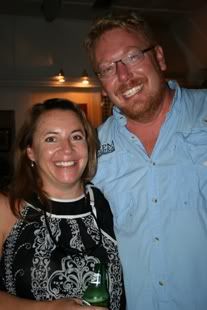 Nadene & Michael
Work has been picking up, as the R/V Hercules has moved operations from Albania to Sicily and things have picked up for RPM Nautical in Key West as well. Our smaller Key West based vessel, The R/V Robo was pulled out of the water this week for retrofitting as it is being prepared to possibly join the RPM fleet overseas at some point. The season continues to go well as we have had many significant archeological finds this season.
Capt. Glen & Todd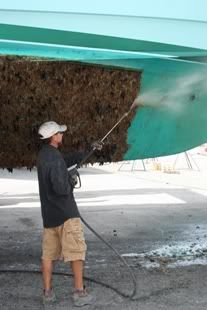 In sadder news, our chief Archeologist Dr. Jeffrey Royal, who just recently celebrated the birth of his 3rd child, suffered the loss of his mother, Rachael this week. Kathy & I wish to express our deepest sympathy to Jeff and his family during this difficult time. This week also saw the loss of esteemed writer Frank McCourt, who wrote the acclaimed memoir, "Angela's Ashes". I had the chance to meet him and to watch him sing and play with the Rock Bottom Remainders last fall at the Miami Book Fair and found him to be a wonderfully engaging and surprisingly fun-loving person.
Rachael Royal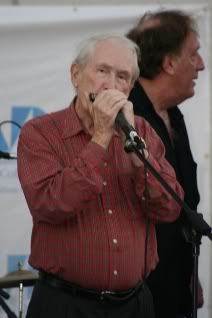 Frank McCourt
Bottlecap Lounge
One Night Stand III
Rachael Royal Obituary