Summertime Rolls
August 1, 2007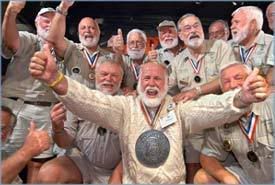 Hemingways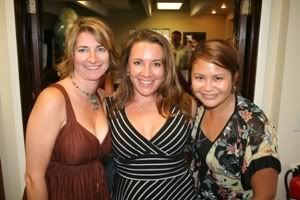 Kristin, Nadene & Larissa - We've Got the Keys
Summertime Rolls
Once arriving home, we had a number of friends and pets eager to see us and the Key West summer scene in full swing. There was a time in the not too distant past when Key West virtually shut down in summer, now there seems to be a continuous schedule of events and festivals that keep the island hopping all summer. Kathy & I took in one of the nights of the Hemingway Festival which featured writers reading Hemingway inspired works. Finbar Gittelman, Brian Gordon Sinclair, Tom Corcoran and Jeffrey Cardenas all read at the event which was held at Wyland Galleries. The Hemingway Days events are highlighted by the highly competitive Hemingway look-alike competition, this year 140 Papas entered. You can't walk around town without seeing one or more, it's a sort of surreal experience.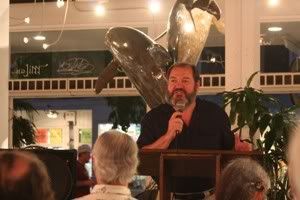 Brian Gordon Sinclair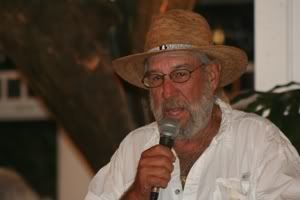 Finbar
We also have been spending a lot of time with friends. Kathy and some girlfriends all got together for dinner at the Banana Café and we took time to hang out with our friends Dan and Deanna Tobin on their annual family visit to their former home. We spent a day at the pool at their hotel, The Casa Marina. Having former residents' visits is always nice; of course we would prefer that people not leave.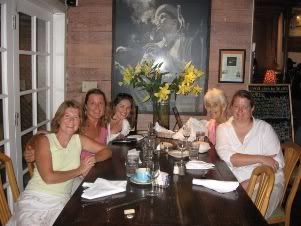 Betsy, Kathy, Holly, Sheila & Nancy
Key West is in a constant state of flux and you have to get used to constant change. Change includes many of our favorite haunts closing down and many friends moving on. It seems to be happening a lot of late. Just with-in the past few months some of our favorite places have closed. The Deli restaurant, PT's restaurant and Valladares newsstand have all joined the list of places we love that are no more. To top that off, there have been two going away parties this week, both for long-time Keys residents. Vicki Weeks is headed to Savannah after 33 wonderful years in Key West. She has been an activist in support of a myriad of social and environmental issues and a constant peace advocate and will be greatly missed.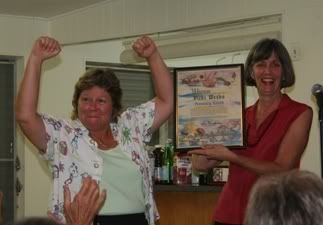 Honorary Conch Vicki with Marilyn Smith
Cheva Heck is off to the Lake Tahoe area after 13 years in the Keys, she had been working most recently for the Florida Keys National Marine Sanctuary and was a friend of both Kathy & myself independently for years before we ever met, funny how that works on a small island. Kathy was in Madison, Wisconsin visiting our friend Janine, so she missed the going away parties. She also missed another party, this one hosted by our friend Nadene to welcome a new wedding planner, Kristin to her event planning business, We've got the Keys. The party was a big success, with a huge turnout to help Nadene and staff celebrate the continued growth of the business. If you ever need to get married or host an event in Key West, there is no one better to plan it.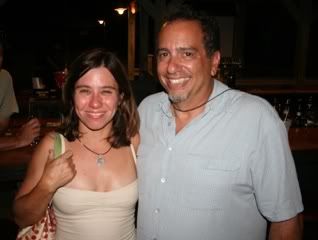 Cheva with John Nazzaro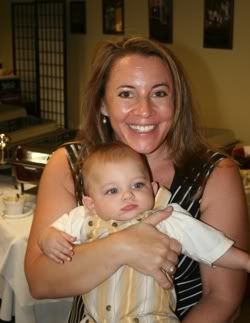 Nadene with baby??!!??
http://www.wevegotthekeys.com/
http://www.briangordonsinclair.com/
http://www.meadowrunpress.com/sealevel.html
http://www.tomcorcoran.net/