Key West Literary Seminar Session II
January 25, 2013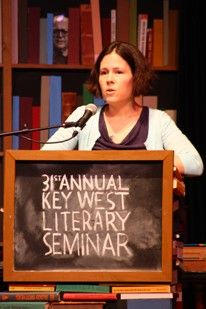 Ann Napolitano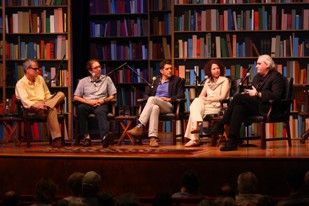 Michael & Michele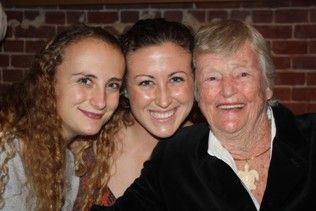 Caitlin, Effie & Fran
Key West Literary Seminar Session II
The second weekend of this year's Key West Literary Seminar, "Writers on Writers" kept me almost as busy as weekend one, even though the tension level was somewhat reduced in that the seminar was not completely sold out and somehow the pacing and tempo seemed just slightly more relaxed. It was still a full schedule of events and activities and the same stellar collection of incredible presentations and discussions.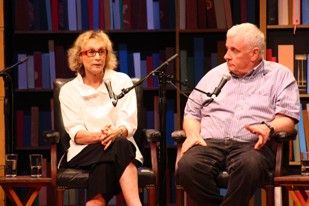 Geoff Dyer
Michele, Noa & Kathy
A few of the writers were holdovers from session
one, including Keynote speaker Colm Toibin, Robert Richardson, Geoff Dyer, Edmund White,
Brenda Wineapple and Billy Collins, but most were new additions to the seminar. These writers included, Alexandra Styron, Paul Mariani, Blake Bailey, Ann Napolitano, Brad Gooch, Kate Moses, Paul Alexander, Joyce Johnson, D.T. Max, Jennie Fields, Lyndall Gordon and Clare Harman.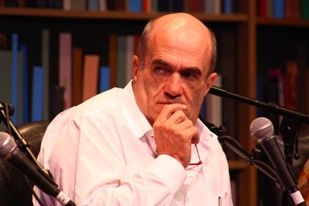 Colm Toibin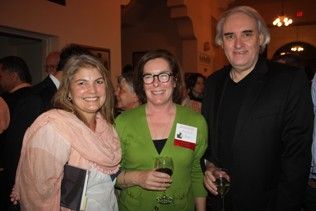 Kate Moses, Michele & Paul Alexander
Blake Bailey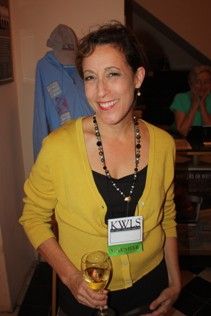 Martha
For the second session, I replaced my wife Kathy, with my sister Michele as my right hand volunteer. Michele came down from Indianapolis to help me out and to participate in the seminar. It has been far too long since she was able to visit Key West and I cannot recall that she has ever been here on her own, so it was pretty cool to not only have her help, but to be able to hang out and let her see a little bit in to our life here.
Michele also had a friend of hers here as her friend Hilene, who is an English professor at Butler University in Indianapolis, along with her daughter Susannah were here as part of the scholarship program to attend the seminar. The seminar offers all sorts of scholarships and financial assistance to assist professors, teachers, librarians and young writers to be able to come and attend the seminar.
Hilene, Susannah, & Michele
Jack, Christine & Rafael
Susannah & Margit
The second session came off without a hitch and there were once again the requisite dinners, parties and receptions that go along with attending the seminar. They keep us busy and active from early morning until late in the evening and then we often head out on the town with various panelists or attendees who are here for the seminar. It makes for an exhausting week, especially if you take in to account that we just went though it all the previous week as well.
Nick & John
Kathy & Noa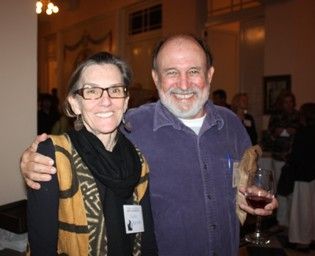 Helen & Ben Harrison
It's so worth it though as the discussions of the panelists and their insights in to their own work and in to the lives of other writers are endlessly fascinating and artistically inspiring. It is rare and special privilege to be so immersed with such an intelligent, literate and interesting group of people, both on the stage and in the crowd. In fact the crowd often features as notable figures as appear on the stage. Key West based writers such as Robert Stone, Alison Lurie, Ann Beattie and Judy Blume could be spotted in the crowd as well as noted film director Bryan DePalma who was here this year.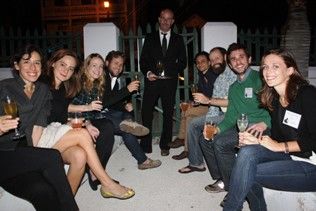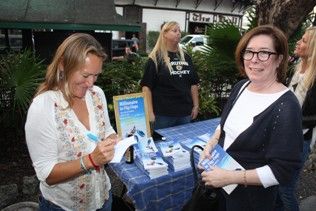 Sue & Michele
In the middle of the weekend, another special event drew us away from the seminar as my friend Fran Ford celebrated her 90
th
birthday with a party at the Key West Garden Club. Fran and her late husband Bill Ford, have been something of iconic role models for me since I moved to Key West.
She even was one of my volunteers at the seminar on the day of her 90
th
birthday and that evening, we headed over to celebrate her birthday.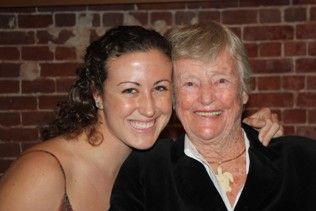 Effie & Fran
the Ford clan
Fran & Dale
Kathy & I are friends with three generations of the Ford family and it was so awesome to be able to see them all at the party. Even my summer intern and Fran's granddaughter Effie was here from Florida State to attend the party.
It was a wonderful evening and a milestone well worth celebrating. Congrats to Fran.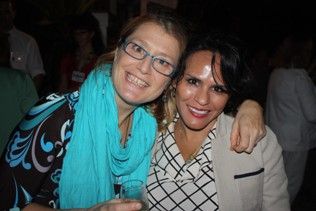 Kathy & Noa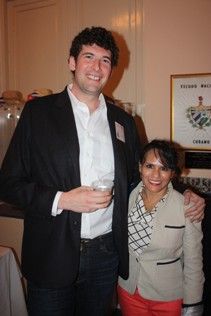 The seminar is over for this year, but planning is well under way for the 32
nd
annual Key West Literary Seminar, "The Dark Side, Mystery, Crime and the Literary Thriller". Already we have a fine line-up of many of the greatest mystery writers alive coming to attend the double session.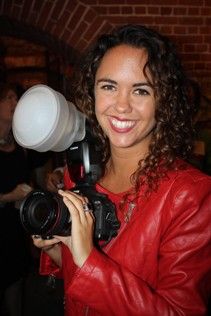 Alexandra
Katie, Effie, Billy Collins, Caitlin