Marshfield
July 4, 2007
Marshfield
The Kilroy home in Marshfield was a buzz of activity this week with family and friends arriving from around the Country for the Fourth of July holiday. In addition to our trip from Key West, my mother Marta flew in from Winston Salem for her first official visit to New England and Chris, Kari, Sophie & James arrived from Colorado Springs.
The Kilroy home is beautiful, located in a beautiful wooded area right on the Marsh which gives Marshfield its name. The property runs right down to the Marsh and South River with the Atlantic Ocean and private beach just across the river.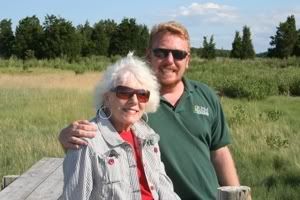 Marta & Michael
The creek and river make an excellent and popular spot for swimming and the beach is beautiful and the base for all the July 4th activities. Many hours have already been spent swimming and playing in the creek; it is especially popular with the kids and our dog India who seems to have found a fountain of youth with each visit to Marshfield. We spent much of our time visiting the creek; it's a daily happening at the least. The kids and dog spend hours playing in the mudflats, complete with mud fights and swimming.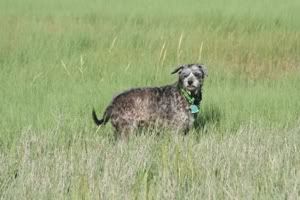 India
We picked Marta up at Logan in Boston on Monday morning and went immediately to one of the places that she had wanted to visit in Boston, The John F. Kennedy Presidential library. The library, designed by architect I.M. Pei is a beautiful building that looks out over Boston harbor. Inside is an excellent collection of memorabilia from the Kennedy Presidency. It is very well done and quite interesting and was well worth a trip. It certainly exposes the vast differences in emphasis between the JFK administration which put a premium on culture and the arts and more recent administrations. It is easy to understand the Camelot analogy used on the JFK years.
Boston
Marta, Jim & Kathy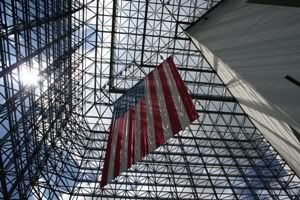 JFK Library
We had a huge lobster feast on Monday evening, Kathy's sister Julie came down from Brookline to join the festivities and her aunt Kathy and uncle Al came by from nearby Situate. It was a magnificent New England lobster feast complete with a few fireworks after dinner as a prelude to the big fireworks display on Tuesday.