Parrot Heads in Paradise
November 6, 2006
Jerry Jeff Walker
Locals Terri & Jerry Gordon
Parrot Heads in Paradise
I have a confession to make; Kathy & I are not true Parrot Heads. We enjoy Jimmy Buffet as much as the next guy but being a true Parrot Head involves a level of dedication as well as a certain amount of zaniness that is well beyond our experience. That said, for the past few years, we have dutifully signed up and attended the annual Meeting of the Minds Parrot Head convention held here in Key West. Why you ask, would one want to spend time with such a cadre of crazy devotees? Because they bring to town some great music and they know how to have a good time.
The organizers always pack the 4 day gathering with a wonderful selection of music, including a "surprise" concert by Jimmy Buffet himself every couple of years. The members of the Coral Reefer band past & present are also always on hand, playing with each other or in various solo outings. They also always bring in a bunch of great island music and bands with some connection to Jimmy.
Keith Sykes
Jerry Jeff
The event is headquartered at the venerable and beautiful Casa Marina hotel, where a stage is set up right on the beach, making for a fantastic atmosphere for the shows.
This year the opening night concert featured three great performers, Keith Sykes, Larry Joe Taylor and the legendary Jerry Jeff Walker. I was especially impressed with Sykes, his performance was great. He even played a new tune co-written by one of my favorite musicians Todd Snider. Speaking of Snider, we met a few people in attendance who I know from the Todd listserve including Fat Pete and Beth & Paul Pearon. It was fun to finally put faces with names. The Todd inspiration continued during Jerry Jeff's set when in addition to playing his songs like "Mr. Bojangles"; he did a great cover of the Snider song, "Alright Guy".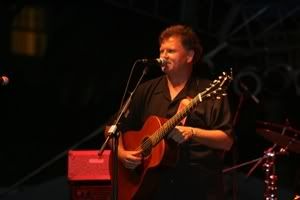 Scott Kirby
Michael, Paul & Beth
Friday night was beautiful with a nearly full moon and a wonderful ocean breeze blowing and it featured great performances from Scott Kirby and Peter Mayer. Kirby once had a regular gig at the Pier House, but has since moved on to bigger and better things. Mayer is the lead guitarist for the Coral Reefer Band and was highlighting his solo efforts for the appreciative Parrot head crowd. The festivities continued throughout the weekend with numerous parties, music and other events, none of which we took active part in, choosing instead to spend the bulk of the weekend at home relaxing and cleaning and other more mundane activities. After the past few weeks, resting about the house seemed like a perfect way to spend a weekend. I even watched a little of the Colts defeat of New England which capped a good football weekend as most of my teams came away victorious.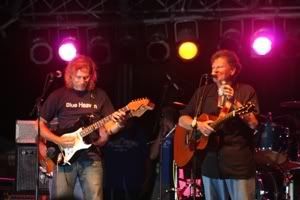 Peter Mayer & Scott Kirby
Coral Reefer Mac McAnally & Michael
http://www.fatpeterecords.com/
http://www.keithsykes.com/
http://www.jerryjeff.com/
http://www.scottkirby.com/
http://www.petermayer.com/