J. Seward Johnson opening
J. Seward Johnson opening
January 19, 2007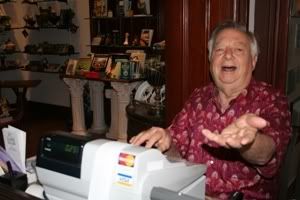 J. Seward Johnson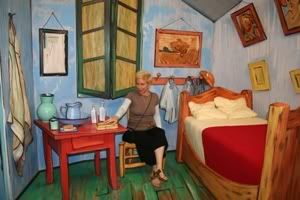 Carol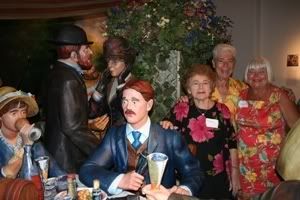 Sy, Florrie & Betty
If you can imagine yourself walking through a Monet landscape, hanging out in Van Gogh's bedroom or appearing in a famous Renoir scene then the Key West Custom House was the place to be last night at the formal opening of the new exhibit featuring the incredible sculptures of J. Seward Johnson. The exhibit, "Beyond The Frame: Impressionism Revisited" will be on display until March 4th and I would urge anyone with the opportunity to check it out.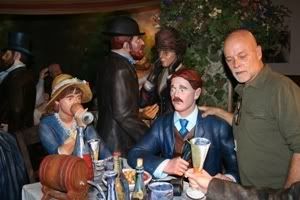 Michael Sheilds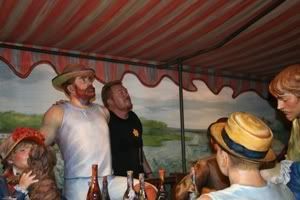 Hmmmmmm....
You no doubt noticed that we got a preview last weekend when the Key West Literary Seminar had a party at the Custom House which enabled us to see it before it officially opened, but the actual opening party for the exhibit brought out the usual collection of Key West glitterati to take in Johnson's wonderful creations. The artist himself was there and seemed to be having a great time at the first showing of his art in his hometown of Key West.
The Artist at play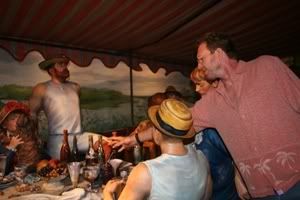 Steve
The recent foolish decision by the city commissioners that denied Johnson's offer to place permanent sculptures at the Southernmost point seems even worse after seeing the delight that people appeared to experience when viewing the sculptures. Normally reserved people hopped into Van Gogh's bed and there was a spirit of fun and playfulness that is often lacking with the wine and cheese set.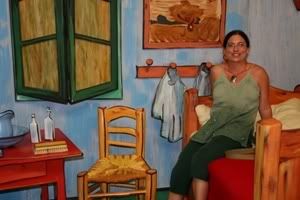 Beth
This being the height of the season, there is no shortage of events going on, many simultaneously, so after the Custom House, it was over to the Walk on White monthly gallery walk. It was packed as hoards of art and culture lovers scurried along White Street checking out art and each other in what is always an enjoyable ritual.
Today we are off to Miami Beach and Fort Lauderdale with Kathy's dad Jim, in celebration of his birthday earlier this week, we are taking him to see the touring Broadway play Spamalot at the Broward Center this weekend. We'll be back Sunday to watch the Colts try once again to cast off that Gorilla known as the Patriots from their backs. Perhaps the third time really is the charm.
Steve & Chad
http://www.sewardjohnson.com/site/index.html