Grand Prix of Indianapolis
May 16, 2014
Grand Prix of Indianapolis
Simon Pagenaud wins!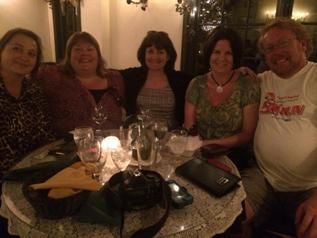 Stephanie, Amanda, Jody, Kristi & Michael
The inaugural Grand Prix of Indianapolis can be counted as a success by just about any measure. Critics may have scoffed at the idea of holding an Indy Car race at the speedway to open the month of May and as a lead-up to the Indy 500, but the great turnout, exciting race and decent TV audience made sure that this is one new tradition that will most likely stick around for awhile.
The curiosity factor and absolutely perfect spring Indiana weather helped attract the crowds which though way less than the masses at the 500, was still pretty good, much of the stands that were available were full and the viewing mounds in the infield were packed. The speedway made sure to have plenty of activities to keep people entertained including the support races featuring Indy Lights and the Mazda Pro Series, a kid's zone, the Indy Car experience and an amazing classic car show.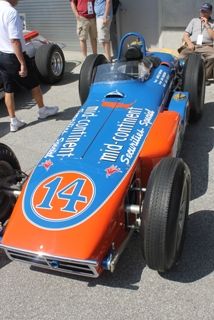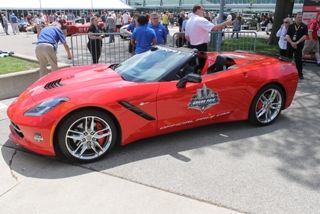 The car show packed the grounds with hundreds of amazing classic cars from every era of automobile manufacturing including production models and classic race cars. It was really cool to wander around and check out the collection of amazing cars. It really added something to the day and it gave fans something to do when cars were not on track racing.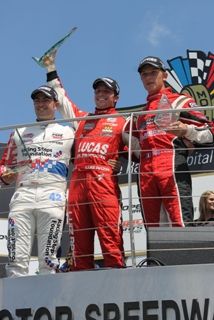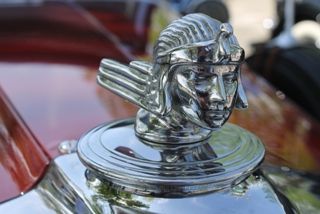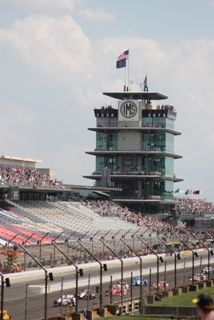 The lead-up to the race itself did not have anything approaching the tradition and reverence that happens before the 500, but it did have a great fly-over and the traditional command of "Gentlemen, Start Your Engines" (since no women drivers were entered). The race was a rare standing start and it really did not work out so well as pole-sitter Sebastian Seevadra somehow stalled on the start, triggering a massive crash as first Carlos Munoz then Russian rookie Mikhail Aleshian smashed into his prone car sending debris flying that even hit honorary starter, Indianapolis Mayor Greg Ballard.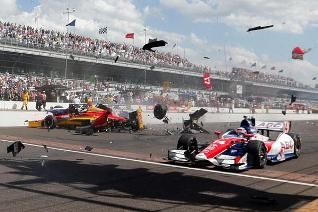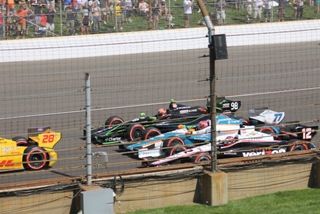 It was not the way they wanted to get things going, but thankfully no one was injured and once clean-up was complete the race settled in to a pretty decent race. I sat high in stand H, just outside of one of the two great passing zones which saw plenty of action and passing with cars flying in two and three wide. It was really cool.
Mario Andretti & I
Rookie Jack Hawksworth lead for a long period, which was cool to see, as did Ryan Hunter-Reay, but the race turned in to a fuel mileage race with Sinmon Pagenaud breaking through and saving enough fuel to beat Hunter-Reay and a charging Helio CastroNeves for the win. It was a beautiful, fun day at the track and way better than just the ordinary opening day of practice.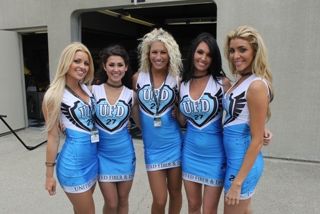 Juan Montoya * photo by Kate Shoup
After the race, I had the good fortune to participate in one of my favorite annual Indy in May traditions, "Dinner with the Ladies". For the past six years a group of my favorite women have met me for a wonderful dinner while I am here during May for a fun, somewhat raucous and always entertaining evening of sharing stories old and new. I am so fortunate to have such amazing friends, all of whom I have known for thirty years plus (or since they were each about 1 year old).
Thanks so much Amanda, Jody, Kristi and Stephanie again for a great evening. Hope you had fun in Florida Laura- see you next year.
Jody, Amanda, Stephanie & Kristi
Deron, Jody & Buddy