Jim & Klara
June 17, 2010
Jim & Klara
There are some people who become such a part of the fabric of your life that you sort of take it for granted that they are around. Such is the case with my friend Jim Hale, I was trying the other day to recall how long I have known him and how we first met and I just could not place it. It just seems that he has always been around at least as long as I have been in Key West. Like many friends, we can go weeks or months without seeing each other, so it was somewhat of a surprise when he invited me to his wedding, especially considering that I was not even aware that he was involved with anyone.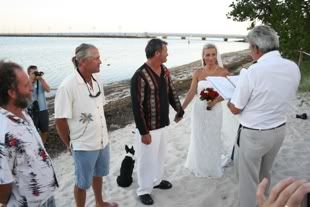 Jim is one of the most fascinating Keys characters that I know. Most people will recognize him for the many years that he would ride his bike around with his dog slung over his shoulder, or many might know him through his beloved racing pigeons that he races and releases at special events (including his own wedding as well as our own wedding).
Love has a way of creating the type of whirlwind courtship that Jim & his bride Klara seem to have experienced, and so I found myself along with many other friends joining Jim & Klara on Rest Beach for their sunset wedding ceremony this week. It was a beautiful warm (hot) night for the ceremony, which was simple and beautiful and I have to say in the many years that I have known Jim; I don't think that I have seen him happier.
After the vows were exchanged, toasts were exchanged with shots of Tequila for all and the happy couple rode away in true Jim Hale fashion on his Harley. It was just another wonderful Key West experience that I was happy to be a small part of. Here's wishing Jim & Klara all the best. Congrats!
In addition to the wedding, I had the happy experience to reconnect with our friend and former Key West resident, Janine, who is back once again for another visit from her home in Madison. She has been here all week, but I just had not had the chance to see her until I joined her and our friend Gae for dinner at the wonderful Hogfish Grill on Stock Island.
Gae, Michael & Janine
Gae & Janine
It is always great to see Janine and we always have a great time, reminiscing and hanging out. I'm sure Kathy is disappointed that she won't get to see Janine on this visit, but with Janine having a birthday coming up this fall, we just may end up heading to Madison. Kathy has slowly begun making her way home after three weeks away. She plans on visiting friends along the Eastern seaboard as she makes her way South, reporting in last night from Staten Island, New York.