Color Me Fun
May 25, 2013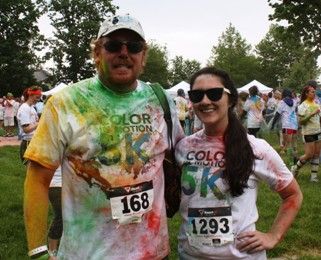 Michael & Dakota
Color Me Fun
Kathy and I have been doing as many 5K races as we can over the past few years, we generally walk in them and enjoy participating, supporting whatever charity the races benefit and getting out and getting a bit of exercise. We try to always check the 5K race schedule when we travel as well because it is always nice to participate in a new place.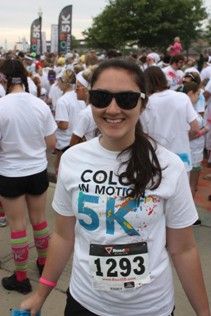 Dakota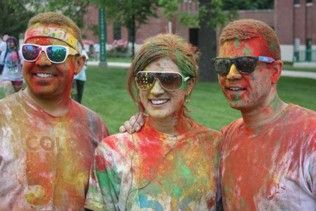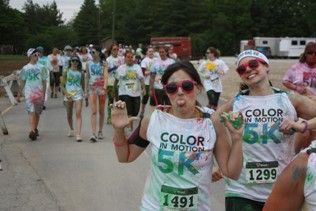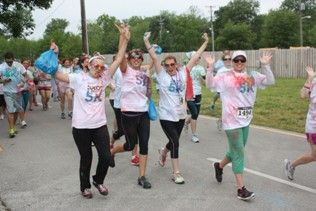 When checking the schedule for Indianapolis while I was there for the race, I found that there was going to be a Color Run 5K at the Indiana State Fairgrounds and while Kathy was not there to join in, Dakota is thankfully a fitness and 5K participant in her own right. In fact she recently finished her first half marathon with a first place finish in her division, so she was more than up for participating in the Color in Motion 5K.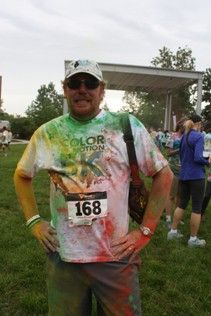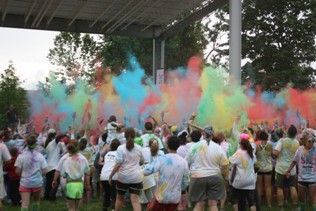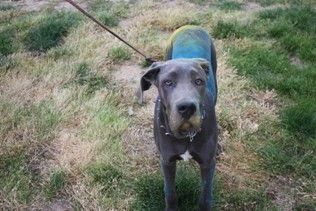 In recent years organizers of 5K races have gotten increasingly creative in putting on races, to draw larger crowds they have added theme twists that add fun and interest for participants, Tough Mudders, Zombie 5Ks, Tutu Runs and Color Runs all fall in to this category and this one was much more of an event than an actual timed race.
Dakota
If drawing a crowd was the goal, it was a huge success as thousands showed up to participate. What makes the Color run special is that each participant is equipped with bags of colored corn starch that they can throw on each other during the race, in addition along the route are stations where volunteers douse the participants with the colored dust creating a rainbow effect on the runners.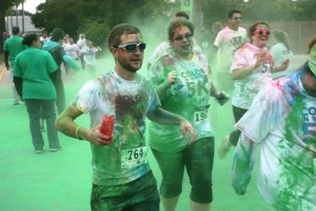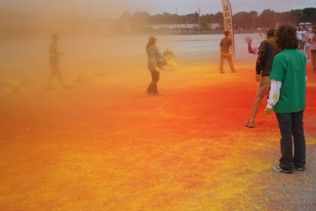 The day started off a bit chilly, but we lined up among the thousands of runners, so many that they started the race in waves to avoid traffic jams and we were off on a course that wound through the fairgrounds that is home to the Indiana State Fair. Dakota took off and left me literally in the dust – multi-colored dust which I was pretty quickly covered in. I have to admit it was pretty fun and interesting to see the people covered in color.
Becky & Rick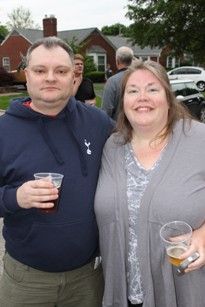 Tim & Amanda
Jody, Deron & Rusty
For me it was just the start of a fun day, while Dakota went off shopping with my sister Michele, I headed to one of my favorite annual events, the Race Weekend Crawfish Boil hosted by my friends Rick and Becky. Once again this year the event was so big that they had to block off the street to accommodate all the friends and neighbors.
Kevin
Erik & Eli
I love the event because it offers me a chance to see many friends and enjoy wonderful food and beer from some of Indianapolis' finest microbreweries including Brugge and the Broad Ripple Brew Pub and beer from Twenty Tap. So awesome and fun. I especially love that I get to see so many of my friends children and marvel at how much they have grown in the year since I last saw them.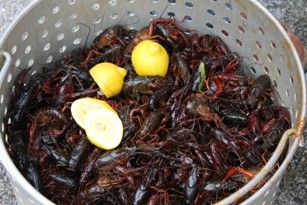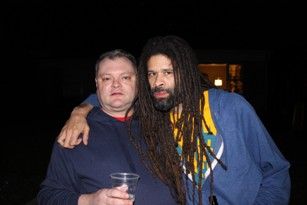 Rusty & Tim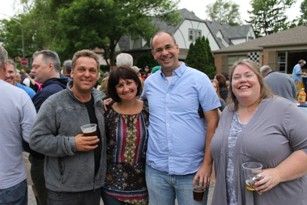 Erik, Jody, Deron & Amanda
Catching up with lifelong friends is such a wonderful thing, it is certainly one of the reasons that I love so much returning to Indianapolis each May. The Crawfish boil just distills the entire experience into one event. I love it and I love my friends. Thanks so much to Rick and Becky and their families and friends for making it possible.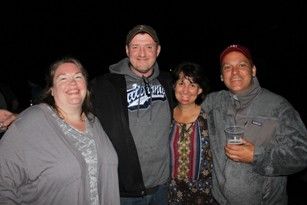 Amanda, Danny, Jody & Erik