Playing Tourist
November 17, 2006
Visits from family and friends give Key West locals the opportunity to play tourist by taking visitors to all the touristy things that we generally avoid. This week, we are pleased to welcome Michael's mother Marta Blades from her home in Winston Salem, North Carolina. The main reason for her visit is to attend the Miami Book Fair this weekend, but she arrived on Tuesday in order to spend time with us and to enjoy Key West.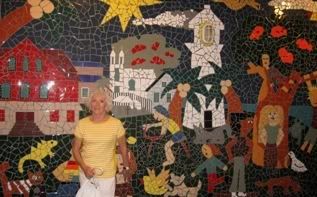 Marta
On her first evening here, after dinner at the Outback, we headed over to the Regal Cinema to check out the smash hit comedy, "Borat: Cultural Learnings of America for Make Benefit Glorious Nation of Kazakhstan." The film is hysterical though it has a crudeness factor that made it somewhat uncomfortable at times to be sitting through with one's mother. She actually seemed to find it as amusing as we did, thankfully.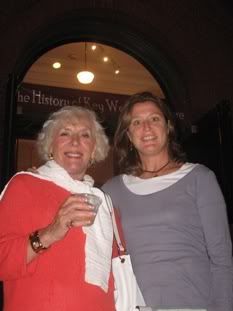 Marta & Kathy
The next day, we did even more touristy things. Marta spent the day on Duval Street shopping and in the evening, we headed down for the sunset celebration at Mallory Square. Marta loves watching the sunset as well as the buskers and performers who perform each night. She is especially fond of Dominque, the Key West Cat Man whose show includes trained house cats doing tricks like jumping through flaming hoops. After dinner at Alonzo's Oyster House, we stopped in for an art gallery opening at the wonderful Lucky Street Gallery featuring the work of artist Richard Buckheim. Marta was in her element and there were a ton of locals there for her to meet and mingle with.
Key West Cat Man
Thursday evening was one of those typical Key West in season evenings with too many choices of things to do. We settled on taking Marta to the art opening at the Customs House before heading over to the monthly "Walk on White". The walk features all of the shops and galleries on White Street hosting openings and serving wine, cheese and such. After the walk, the ladies headed home to watch "Grey's Anatomy" while I headed to the Tropic Cinema to check out the new independent film, "Sharkwater". The film is a gripping documentary which illuminates the critical importance of sharks to the marine ecosystem and documents the insidious practice of shark finning that is decimating the shark population. The film is touring film festivals at the moment and will open in wide release in March 2007. It's well worth checking out.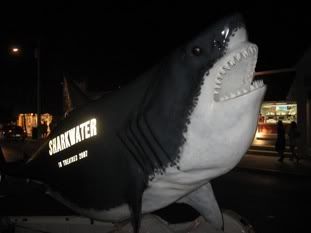 http://www.catmankeywest.com
http://www.luckystreetgallery.com
http://www.sharkwater.com
http://boratmovie.com