Survivors Party
November 12, 2006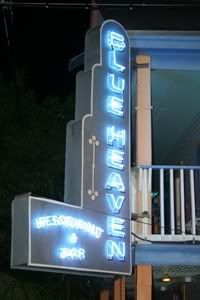 Things don't really slow down much in Key West, there is always something going on and often there are multiple entertainment choices. There are a bunch of wonderful non-profits here as well and they all seem to know that one sure-fire way to raise funds in Key West is to throw a big party. There seems to be some great fundraising party every weekend. One of the best is the annual Survivors party to benefit WomanKind. Held once again this year at the wonderful Blue Heaven restaurant, the party reunites one of the legendary Key West bands, The Survivors, each year.
The Survivors once played almost every weekend locally at the Green Parrot and the old Full Moon Saloon and they are fondly remembered by long-time Key-Westers. The party brings them all out to celebrate and dance the night away all to support WomanKind, a local non-profit that provides affordable health care to Key West women.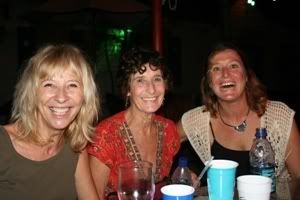 Erica, Greer & Kathy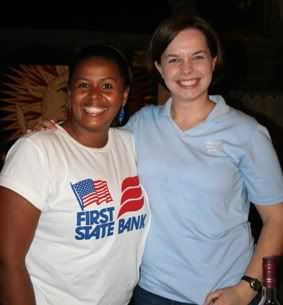 The party was wonderful, a perfect chance to see many friends and acquaintances. The weather was perfect, the music wonderful and they had a great buffet of Cuban food prepared by Blue Heaven. The evening was a great success all around. It was a great way to cap a busy week for us.
Michael w/ WomanKind Director Vicki
We managed to take in a few movies this week as well. Heading to the Tropic to see the new documentary, "The US vs. John Lennon", which details the US government's attempts to deport John Lennon during the Nixon administration. It was a relevant and interesting film, though it offered little new material. The other movies we saw this week included the animated "Flushed Away" and the new comedy starring Will Ferrell, "Stranger Than Fiction". Both were excellent and highly recommended.
I also managed to take in the annual Veteran's Day parade. Key West is home to a big Navy base and also has a large US Coast Guard presence and they put on a wonderful Veteran's Day parade that brings out a large crowd. The parade features almost every civic group, school band, boy & girl scouts as well as representatives of the military.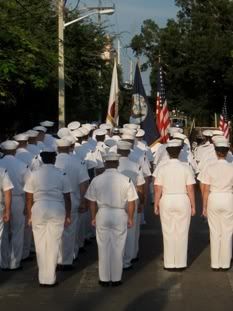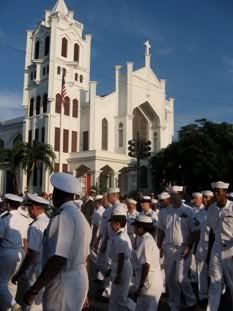 http://www.theusversusjohnlennon.com/site/