Key West Powerboat Races
November 13, 2006
Another of the large annual events held in Key West is the arrival of the huge and powerful, loud and raucous powerboats of Superboats International a member of the APBA (American Powerboat Association). The biggest fastest racing powerboats on the planet arrive each year to hold a series of races through the Key West harbor.
While the Key West community is split about the benefits of the loud boats, the fact that they have to shut down the harbor and that the races create traffic and environmental issues, there is no question that the races are a great spectacle. There is nothing quite like seeing the powerful boats rocket along the harbor very close to the shore and though I know less than nothing about the races themselves, I took the opportunity Sunday to head down to Ft. Zachary Taylor State Park and witness the controlled mayhem first hand.
The boats are incredibly fast, topping out at about 150 mph or more and are very interesting to watch. The other amazing thing is that each boat has a small helicopter that chases after them as they scream through the course. Watching the copters is almost as interesting as the boats themselves. The weather could not have been more perfect and there was a large crowd assembled along the water to watch the races. After a lap or so, I had no idea who was winning but it was still fun to see.
Sunday evening, we finished up another fun weekend enjoying Mexican Dinner night at the home of our friends Joe & David. It was a delicious meal, with great company and a really nice group of their friends. Now we prepare for the imminent arrival of my mother Marta, who arrives Tuesday from her Winston Salem home for a visit and to attend the Miami Book Fair next weekend. The book fair is one of the preeminent literary events in the country and there will be a ton of author presentations.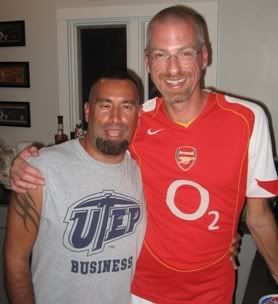 Joe & David
http://www.superboat.com/
http://www.miamibookfair.com/