All aboard…...
October 2, 2006
Gae, Dana, Janine, Bonnie & Jerian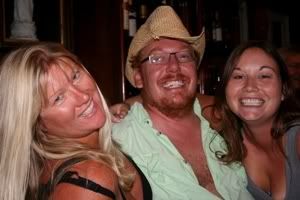 Fiona, Michael & Melissa
The rollercoaster that is the season is loading up and preparing to depart on its annual wild ride through October and into the New Year. The busiest time of the year in Key West begins with the build-up to Fantasy Fest, the Key West equivalent of Mardi Gras held around Halloween each year. After that it's a series of events like the annual Parrot Head Convention, the Miami Book Fair, the Holidays and the Key West Literary Seminar which will be keeping us busy and exhausted into 2007. It's a pretty exciting time.
We got somewhat of an early head-start with a couple of more birthday celebrations over the weekend. Friday night, we celebrated a combination birthday/ going away party for our dear friend Janine Glaser. Janine recently sold her place here and will soon be relocating to Madison Wisconsin. Living in Key West you get used to having your friends come and go. In fact this isn't even the first time Janine has left, but this time has an air of finality about it. The transient nature of the town is at once a blessing and a curse. The good part is that one tends to make a lot of friends who then scatter across the country, giving us plenty of people to visit on our cross country excursions. The bad part is constantly having to say good-bye to good people who have become part of the fabric of your lives.
Gae, Nadene, Janine & Kathy
We did our best to help Janine enjoy her party, which was held at Buck's BottleCap bar and was a bunch of fun. We had a late night, heading to down numerous bottles of wine at the Grand Vin wine bar after leaving Buck's. Saturday morning, we were moving rather slow, but we had to regroup in time to hit another party. This one was our friend Dana's 40th birthday at her newly redesigned home Saturday night. The same guys who designed and built our bathroom last year, Rick & Steve, are just finishing up Dana's wonderfully creative kitchen. Another late night.
Party Time!!
Dana, Lara & Wayne
Sunday, it was off to the UU Fellowship of Key West to attend services led by the exciting new minister candidate, the Rev. Dr. Randy W. B. Becker. Rev. Randy had been in Key West for the better part of the week along with his wife Elissa and after giving a great service, the congregation voted to hire him as our new full time minister. You can listen to his service and others, using the link below if interested. After Church, Kathy & I took advantage of one of the other benefits of living in a community full of resort hotels by heading over to the pool at the Doubletree Grand Key Resort to lounge out by the pool under the perfect beautiful
sunny Key West sky.
Rev. Randy & Elissa

http://www.rickeith.com
Rev. Randy Sermons
The Coolest Bathroom in the World