Community
July 30, 2009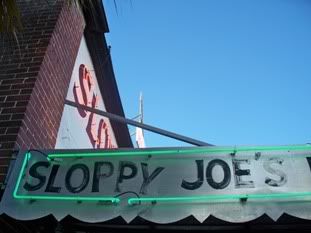 Community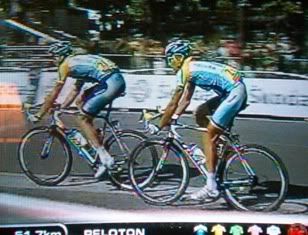 One of the best things about living in Key West is the very real sense of community that one has living here. Unlike many places, people here actually know and interact with each other in a meaningful way on a daily basis. It really has the spirit of a small town, especially in the summer when you can't go anywhere without seeing a familiar place.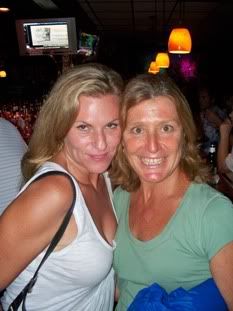 Kim & Kathy
Mayor Morgan covers Bon Jovi
As a community, Key West is about as giving a place as you could ever experience as countless non-profits flourish and just about every day there is some sort of fundraiser going on. This is especially true in times of need, such as the fundraiser held last week for our friend and City Commission candidate Tom Milone, who was the recent victim to a rare and senseless act of violence when he was attacked by a group of local kids.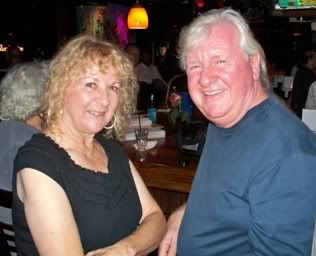 Phil & Margaret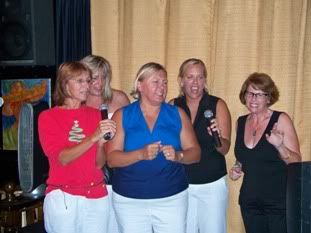 Tom suffered a broken jaw among other injuries and had to be air-lifted to Miami for treatment. The attackers were caught quickly by the KWPD, but Tom still has his jaw wired shit and is in a deep financial hole due to medical expenses. Thankfully a group of concerned friends, led by our friends Phil & Margaret organized a karaoke fundraiser for Tom at the Bottlecap lounge.
Tom Milone (left) & Phil
We attended along with a huge crowd from the community, including his political opponent, Jimmy Weekly, who even invited Tom onstage during his performance of YMCA. Even the Mayor, Morgan McPherson sang a couple of tunes. It was a great time for a great cause and a perfect example of how the community comes together to help out when people are in need.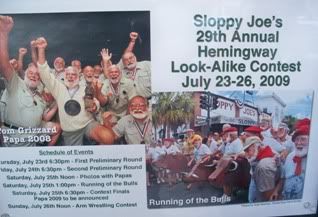 This week featured a lot of other events, hi-lighted for us by our big, get rid of some crap- Yard Sale. The rain held off and we made a little money, but more importantly we were able to lighten our load and enjoy the visits of many friends who dropped by to see wht we were parting with.
Kathy & Melissa at Yard Sale
Tour de France viewing party
We also managed to take in a round of the annual Hemingway Days look-a-like competition at Sloppy Joe's, attend the MARC House Ice Cream Social fundraiser and to join our friends at the home of Nancy & Mark to view the final stage of this year's Tour De France. All in all,a busy, fun and productive week.
Brewster, Sherry, Nelson & Lynn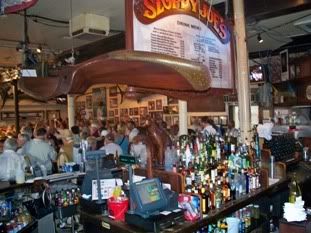 Sloppy Joe's
Speaking of Fundraising, Our dog India is entered in the Key West Citizen's "Cutest Pet in the Keys" contest. You can vote for only $1 per vote with all proceeds benefitting Newspapers in Education at the link below. Vote India (#4)!!!
Vote For India Here!