Miami
November 21, 2006
Miami
The second day of the book fair on Sunday was another long day of watching author presentations and enjoying the entertainment that the fair provides. If anything it was more packed and hectic than the previous day. One thing is for certain and that is that Kathy, Marta & I have varied tastes and we spent much of the day on our own watching authors that appealed to us specifically. So while Marta & I began the day listening to the satirical mystery novelist and journalist Carl Hiaasen, Kathy was listening to the inspiring stories of Aron Ralston and Mark Zupan.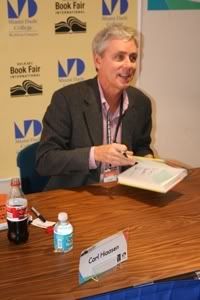 Carl Hiaasen
Hiaasen is a syndicated columnist for the Miami Herald and the author of a slew of hysterical novels set in South Florida such as "Native Tongue", "Strip Tease" and "Lucky You". His newest novel, "Nature Girl" was hot off the presses and sounds as funny as ever from his reading. Aron Ralston's book, "Between A Rock and A Hard Place", details the harrowing ordeal of being trapped under a boulder during a climbing accident and making the decision that the only way to survive was to amputate his own arm. Mark Zupan is a quadriplegic rugby star who was featured in the Oscar nominated documentary film "Murderball" and who has a new book out, "Gimp- When Life Deals You A Crappy Hand- You Can Fold or You Can Play" about his experiences.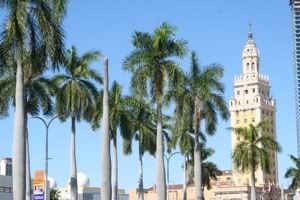 The remainder of the day saw us viewing presentations from such writers as Melissa Bank, Sara Gruen, Janet Fitch, Christopher Hitchens, Edmund Morris, Francine Prose, Jed Horne, Jane Hamilton, Dan Wakefield, Daniel Mendelsohn, Kati Marton and Rosemary Sullivan. We gathered together again for our final author watching historian Doris Kearns Goodwin give a wonderful and moving presentation on her new book, "The Political Genius of Abraham Lincoln". Goodwin, who is featured in just about all of the marvelous Ken Burns documentaries, is a terrific speaker and a gifted writer. She vividly brought the political landscape of Lincoln's time to life.
Overall the book fair was a huge success. We headed home Sunday evening, tired but glad to have made the effort to attend. Marta bought so many books, we had to make a special trip to Pak Mail to ship them home in advance of her Monday evening flight back to Winston Salem. It was a fun visit and it seemed to zip by quickly and now the Thanksgiving holiday is almost upon us. So far, we have not made any firm plans. We may just opt to stay home and relax. We have been on the go so much, a few days off will be a nice change of pace.
http://www.carlhiaasen.com/
http://www.aralston.com/
http://www.doriskearnsgoodwin.com/