home and away
July 27, 2007
Andy, Meghan, Kristin & Emily
Irica's party
home and away
Kathy has wrapped up her trip down the East Coast and back to Key West, only to head off again, this time to Madison, Wisconsin to visit former Key Wester, Janine Glaeser. In between, we actually got to spend some quality time together and with friends as well as clean the house and feed the pets.
Before leaving Massachusetts, Kathy also spent time visiting with friends in the area. She made a short trip up to New Hampshire to see her good friend Tina, and spent time with her friend Kristin, her husband Andy and daughters Megan & Emily. Kristin, Megan & Emily had come to Key West earlier in the year, and now Kathy was able to return the favor at their home. That's one of the many benefits of having friends spread across the US.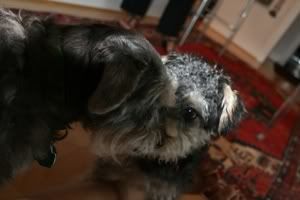 India & Jack
Her long drive back to Key West was meandering and featured stops with family and friends along the way. First stop was at Marta's place in Winston Salem, there India was able to meet and play with Marta's new dog, Jack. Jack's boundless energy was in sharp contrast to India's more mature i.e. "old and cranky" demeanor, but they enjoyed the visit nonetheless.
Gray, Kimberly & Emaline
Next up was Savannah, Georgia where Kathy was able to attend the birthday party for Irica, one of her former students at the Pre-School Co-op, who recently relocated. People in Key West seem to constantly be relocating, moving or just leaving the island. They spread out and (hopefully) welcome visitors, such as us, from their former home. The party was great fun and Kathy was happy to see everyone. She also managed to squeeze in a quick stop at the home of yet another former Key Wester, Ann Boese. Ann, her husband David and dog Sherlock live happily in Savannah, after living for many years in Key West.
Irica, Lilia, Tom & Thomas
Irica & Lilia
Ann & Sherlock
Once home, Kathy & India were greeted by myself, the cats and of course Henry the Chicken, who in her absence had found a new girlfriend to while away the hours with and seemingly crow to non-stop. It was a happy homecoming for all.
Henry & "friend"