Happy Anniversary
October 9, 2006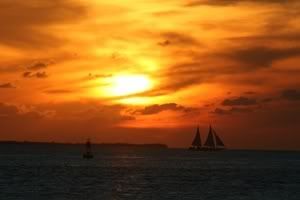 Dawn, Terry, Kathy & Michael
Kathy is worried about the perception of Blog readers now that I only am posting about once a week. She is afraid people will think that all we do all the time is go out all the time, when in reality we actually spend a lot of time doing mundane things like walking the dog, doing yard work, cleaning the house and such. She suggested that I take photos of some of these exciting activities to post here so people will not get the wrong impression.
I opted against that this week, mostly because we went out a lot and even had friends visiting and I figured that was enough excitement for our blog this week. Rest assured though, that we (especially Kathy) have spent a great deal of our week working on the house and yard.
The weekend was great, in part because it coincided with our three year anniversary; it was the Saturday night of Columbus Day weekend in 2003 that we got married. It seems like just yesterday and it was by far the best decision of my life. It has been an incredible and wonderful experience, this marriage thing and I want to thank my lovely wife Kathy for sharing her life with me.
The weekend started with a nice night in on Friday evening. We sat around watching TV, which sounds rather boring but for the fact that we were watching our good friend Abe Benrubi in his new ABC sitcom, "Men in Trees". You may recognize Abe from his roles on such shows as "Parker Lewis Can't Lose" or from his long stint on the show "ER". The new show, filmed on location in Alaska is from the creators of "Sex in the City" and stars Anne Heche. Check it out!
Abe with the Mudkids' Russ Johnson
Saturday, we had some of our Counting Crows fan friends visiting from Michigan, Dawn Roznowski & her friend Terry. We met them at Captain Tony's saloon the headed down to watch the Sunset Celebration at Mallory Square before heading out to dinner at Fogarty's for dinner. We had an awesome time and are so glad they took the time to hang out with us on their Keys vacation. We were even filmed for a new Fogarty's commercial so they will be immortalized on Keys Television.
Later in the evening we headed out to watch our friend Rob Distasi and his band, The Prime Movers, play at Virgilio's. They were our wedding band, so it seemed appropriate to be seeing them on our anniversary. We next headed over to another fine new Key West establishment, Martin's Wine Bar where we ran into friends Nancy Klingener, Mark Heddon, Jody Thomas & Bob Muens. We finished the evening at the Green Parrot.
Rob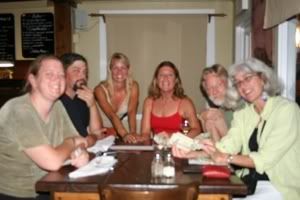 Nancy, Mark, Corrina,Kathy, Bob & Jody
Sunday, in addition to plenty of cleaning, we went out to the Columbus Day Festival sponsored by the Italian Club of the Keys where we enjoyed delicious pasta from many of the finest Italian eateries in Key West. We also got to hang out with many of the Keys' most infamous Italian citizens including Captain Tony Tarracino himself.
Capt. Tony & Michael
The Prime Movers
http://www.virgilioskeywest.com
Men in Trees