Day 2- Indy Qualifying
May 13, 2009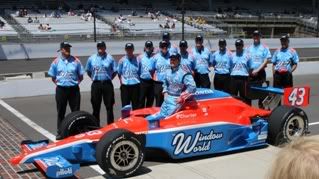 John Andretti
Marco Andretti & Danica Patrick
Day 2 Qualifying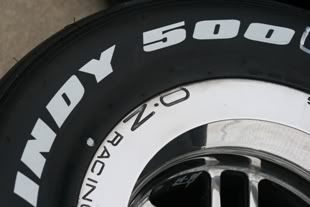 The second day of qualifying for the Indy 500 is a lot more low key than Pole Day, there are less people, no big George Clinton concerts, it is less frantic and this year the weather was much improved, sunny and almost warm temperatures with much less wind. For the teams that have yet to qualify for the race, the day is just as important to make it into the top 22 and to have the next week to get ready for the race itself rather than to worry about qualifying.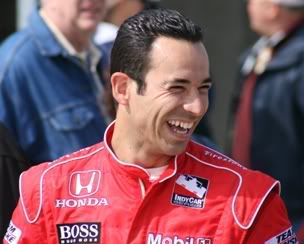 Helio Castroneves
Indy 500 Club Suite
I actually enjoy day 2 because there is still enough interesting drama and yet there are not the sometimes pushy crowds that you find the first day. In fact, you can actually navigate the pits and garage area with relative ease and the crowd in the Indy 500 club suite which I had passes for was thin as well- leaving an abundance of catered fried chicken and such for the munching.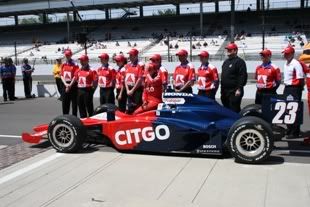 Milka Duno
Paul Tracy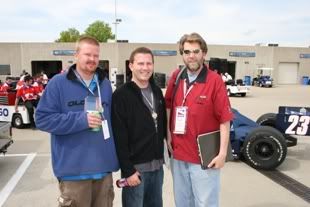 Jeff, Andy & Dan
I spent the day dividing my time between the suite, the pits and the garage area, moseying around visiting with friends and watching the cars as they attempted qualifications and practiced. The teams that are already in the race, took advantage of the ideal conditions to work on race set-ups and practicing working in traffic.
Castroneves
Graham Rahal
Kevin & Alex Lloyd
I got a chance to meet the rising young Nashville based country music singer, Megan Linville who sang the National Anthem to start the day. Ironically, she was scheduled to have appeared at the Key West Songwriters' Festival this year but had to cancel to sing the anthem at the Kentucky Derby. Both she and her manager seemed eager to come down next year.
Megan Linville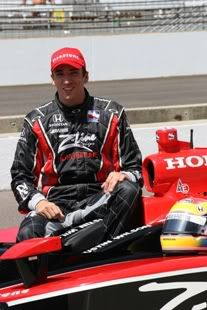 Justin Wilson
Qualifying went well; with the second 11 spots filling up with a bit of drama. Rafael Matos led the way, with drivers such as Sarah Fisher, Justin Wilson, Paul Tracy and others scrambling into the field. Scott Sharp made a last minute bonsai run as the last qualifier of the day. Some drivers were not so lucky, including John Andretti who not only saw his qualifying speed bumped out, but then suffered a wicked crash to end his weekend. Graham Rahal made a spectacular move to avoid the wreck which may well have prevented disaster.
Dario Franchitti & Scott Dixon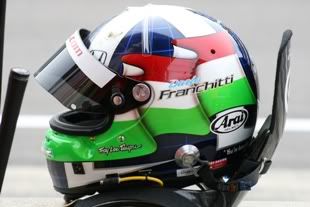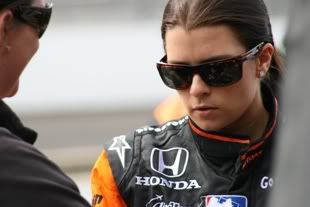 Danica
Paul Tracy
AJ Foyt IV
John Andretti wreck- Great Rahal save!
Megan Linville Website