Brickyard
07/27/2015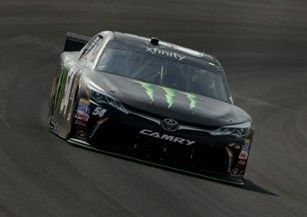 Kyle Busch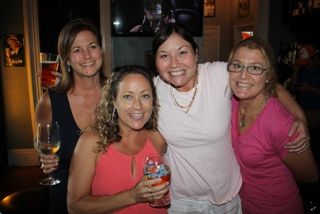 Colleen, Eileen, Melissa and Kathy
Meredith and Kathy
Brickyard
It seems like I have spent an inordinate amount of time this year traveling to Indianapolis, I guess it is not surprising considering the many connections of family and friends that I have there. Late July found Kathy and I making another quick weekend trip to attend the memorial service for my uncle, Thomas Lofton, whose passing I had written about in a previous posting.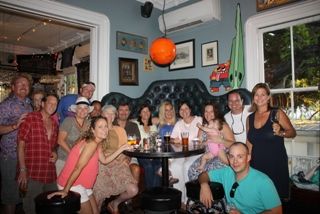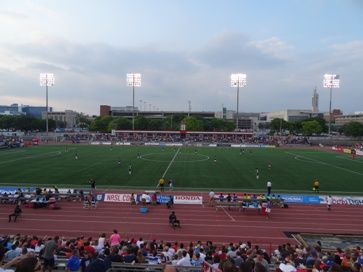 Memorials are not the best place to see family and friends, but they do provide an opportunity to reconnect with many family members that we had for some reason or another lost a connection to, so in that way it was really nice to see many of the folks in attendance, but it was still a somber occasion.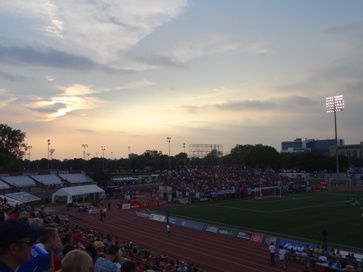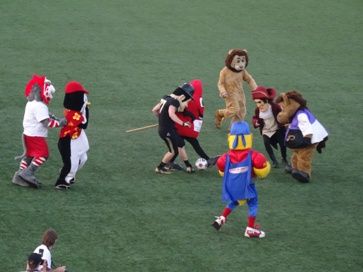 In spite of that, Kathy and I took advantage of being in Indianapolis again to spend time with my sister Michele and to visit friends as well. In fact, I took advantage of the fact that the weekend coincided with the annual running of the Brickyard 400 NASCAR race at the Indianapolis Motor Speedway to head out to the speedway on Saturday afternoon to watch the Infinity Series race that was the undercard for the main event on Sunday.
[URL=http://s43.photobucket.com/user/Reefy1/media/Reefy1015/11705360_924192380970289_7957344713460033339_n_zpsye8cysfw.jpg.html][IMG]http://i43.photobucket.com/albums/e383/Reefy1/Reefy1015/11705360_924192380970289_7957344713460033339_n_zpsye8cysfw.jpg[/IMG][/URL] Danica and Hinch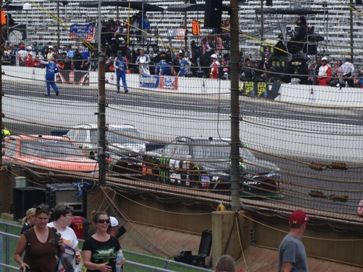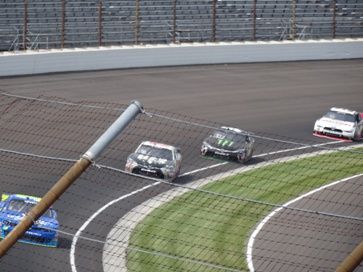 There was a twenty-five dollar entrance fee and you could pretty much sit anywhere you wanted for the 100 lap, 250 mile race that featured a mix of NASCAR regulars and up and coming Infinity series only drivers. It also included getting to watch the cup car drivers qualify for the Brickyard which turned out to be somewhat boring with Carl Edwards capturing the pole over Joey Logano.
It marked the final time NASCAR legend Jeff Gordon would be qualifying at Indy where he has been a dominant force winning five times in his career, which he is retiring from after this year. It wasn't such a great day for him as he qualified 19
th
out of 43 cars.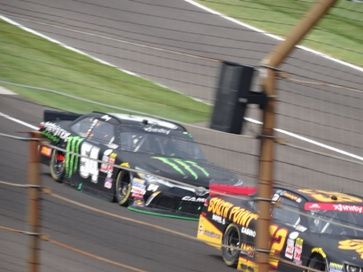 Jeff Gordon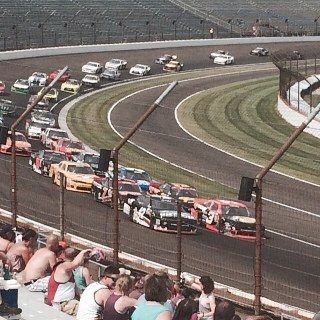 The Infinity race was also fairly run of the mill as passing was at a premium and Kyle Busch dominated the early portion of the race. The race was, as most NASCAR races at the speedway are, mostly a single file parade with very little passing. Luckily there was enough drama at the end to make most forget about the long middle section of the race that was lead mostly by Dave Blaney.
Thankfully during the last 15 laps or so Busch stalked Blaney and waited for him to make an error that he could take advantage of and sure enough on turn two of the final lap, Blaney drifted wide and Busch snuck around for a well-timed pass and the victory. It made up for what had been a mostly dull, hot afternoon.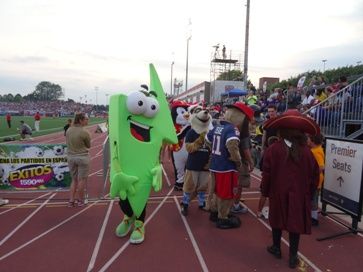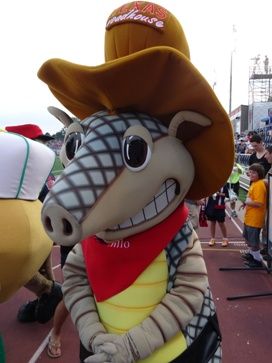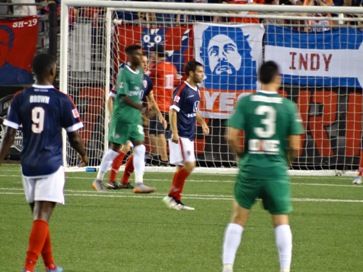 Saturday night, Kathy and I joined some friends at the Indy Eleven soccer game against the NY Cosmos. We joined the tailgate party in advance of the game then had decent seats in the center of the stadium for the game. It was fun, though the Eleven dropped the game 2-1. The most interesting part may have been the halftime contest between the Indianapolis area mascots, who played a quick game in their bulky costumes that was pretty amusing.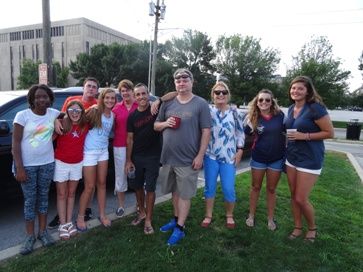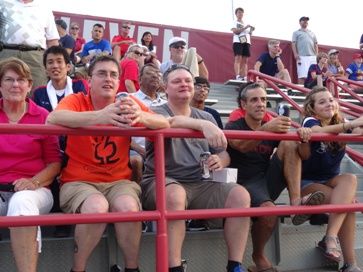 Ted, Tim, Wes and Bailey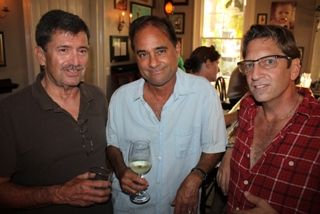 Chuck, Gary & Rob
All in all it was a fun night and a nice way to cap off an otherwise somber weekend. When we returned to Key West, we had the fun opportunity to join a group of friends at the Porch to celebrate the brief return to the island of our friend Melissa, who moved away to Colorado last year, but was back for her own quick visit to the island. It was another great night celebrating friends and friendship.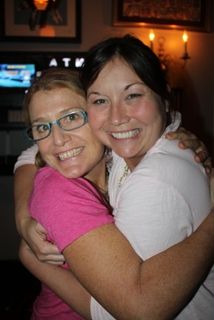 Kathy and Melissa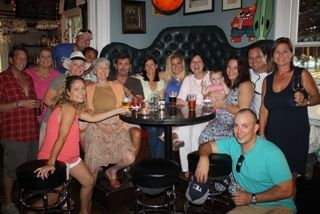 Meredith and Kathy