The Ladder of My Life
March 13, 2012
Elton John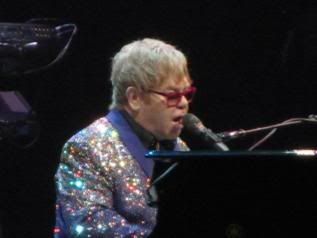 Kathy & Michael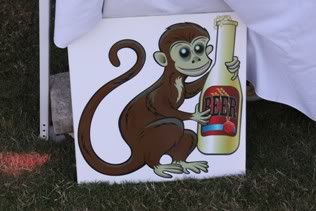 The Ladder of My Life
There was a point during Friday's amazing Elton John concert where a vivid memory suddenly sprang to mind that I hadn't thought of once in twenty-five years. As the opening strains of "Don't Let the Sun Go Down On Me" came on, I was suddenly transported to a time when I was nineteen, in a drug and alcohol induced haze lying semi-conscious in a pool of vomit having overdosed on who knows what. Thankfully my good friend Michelle came across me and dragged my sorry self to the ER where I had the pleasure of having my stomach pumped for the first time.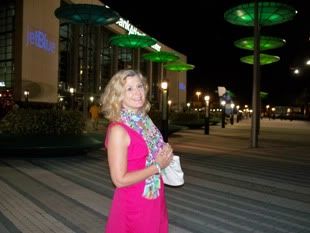 Kathy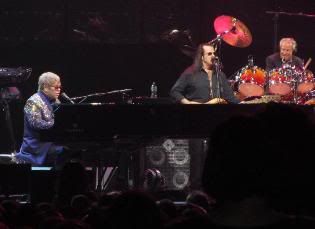 I have only one clear memory of that somewhat pivotal evening and that was hearing the Elton John song "Don't Let the Sun Go Down on Me" on the radio, and thinking to myself that it was like a scene out of one those cheesy "ABC after school specials" that were popular at the time. (It would be like a Lifetime movie for you younger readers). While "Someone Saved My Life Tonight" may have been an even better song to have been playing, it was still amazing how simply hearing a few notes brought me so quickly to a place I had not even considered in many years.
"Don't Let the Sun Go Down on Me"
It was really just a single moment of an incredible show that lasted close to three hours, included thirty songs that dipped deep back in to Elton John's incredible catalog. It's funny because I bought the tickets for Kathy; she is a much bigger Elton John fan than I am. We have seen him a number of times together and I have seen a number of shows going back to my first show back in 1982 as part of the "Jump Up" tour. He has always been a solid performer and the shows have always been great, but somehow this show was transcendent in the scope and impact it had on me. It was like hearing a soundtrack to your life that you didn't even realize existed.
"Funeral for a Friend/ Love Lies Bleeding"
I think the rarities and focus on older songs probably combined with the reflective mood that I seem to have been in of late made this show a much more fulfilling and emotional ride than it might have been otherwise. It was awesome. He opened with and played eight songs off the classic "Goodbye Yellowbrick Road" which was an album that I used to sneak in and steal from my sister Marika to listen to over and over when I was a kid. While I was hardly surprised to hear "Candle in the Wind" or "Bennie & the Jets", I totally was not expecting to hear the likes of "Grey Seal", "All the Girls Love Alice" and "Harmony"- none of which I'd ever heard him perform.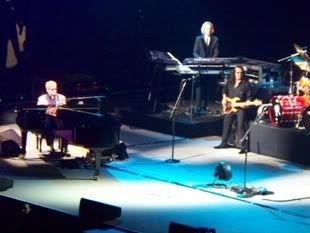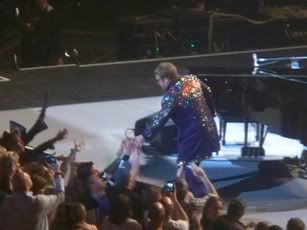 The whole night was like that and whether the music brought back memories of the old jukebox at the long gone Geist reservoir fishing shack where my friends Ed & Riley once played "Philadelphia Freedom" repeatedly or drunkenly dancing my way through college listening to the likes of "I'm Still Standing", Elton John's music has had an impact that I scarcely realized or considered. I am so glad that we went to the show. Sometimes Kathy gives me a hard time about being overly nostalgic, but times like this help me appreciate that everything that has come before has made me what I am today, for better or worse.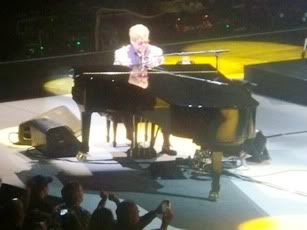 We stayed in Lauderdale overnight after the show. Kathy wanted to get some shopping done so we spent the next day at the Sawgrass Mills mall and at IKEA, much to her delight. It has been a while since I had been in a mall and I have to say that I don't miss it much. The good news is that on the way back down the Keys, we stopped off in Marathon to attend the Marathon Seafood Festival.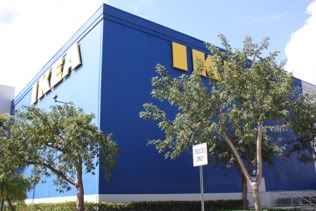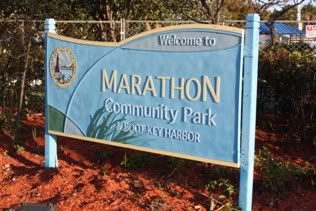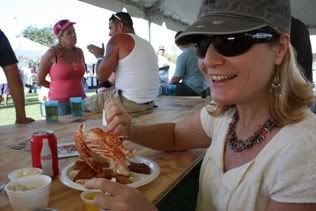 Kathy
The festival was pretty much exactly the same as it always is, which means good food, fair entertainment and a collection of not so great arts and crafts displays. Lobster and fried fish are pretty much consistently good though and the money goes directly to support the local fishermen, which is a good thing.