Chicken catching and more!
February 5, 2009
Kathy & Rooster
Rudi & Anja at Bill Rowan's party.
Chicken catching and more!
Lela Elam & Joy Hawkins in "Doubt"
*photo by Barry Fitzgerald
Key West is known for many things, but one of the most unique features is the population of wild chickens that roam the island. It gives the island a very Caribbean feel and visitors love seeing the chickens every place. While tourists may love the chickens, many locals are not exactly thrilled at the loud, often dirty birds that populate the neighborhoods.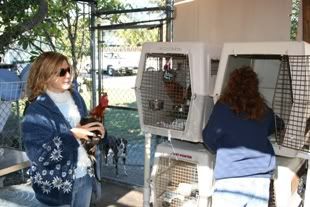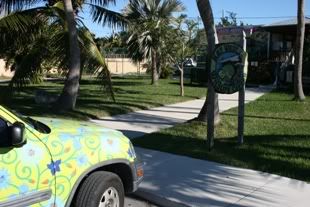 Key West Wildlife Rescue Center
We have always been fans of the birds and long time readers of this blog may recall that we actually kept a pet chicken for a time, but recently the population in our yard has exploded and we have been compelled to start catching the animals and taking them to the wonderful Key West Wildlife Center which takes the birds, keeps them safe and finds them new homes at various farms that raise them without killing them. Apparently there is a great demand for the super-hearty Key West chickens. To date, we have captured over 60 chickens in our yard, to give you an idea of the scope of the chicken population.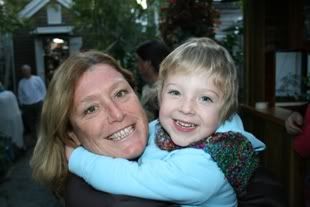 Kathy & Rosie
Bill Rowan photographing the photographer.
Of course we have been busy with many other things in addition to chicken catching, we attended a great birthday/ medicare eligibility party for our friend Bill Rowan. We are actually attending two such parties this week as some of our friends ease into retirement age in the true Key West tradition, by throwing a party of course. Bill's party was in the beautifully newly designed back porch and yard of his wonderful home on Pecan Lane. It was a beautiful gathering of friends and it was actually chilly enough to have a nice fire going.
Nancy, Jeff & Perry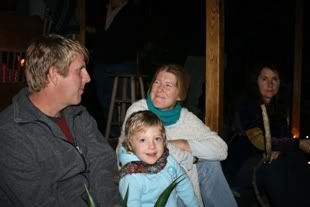 Craig, Rosie, Betsy & Theresa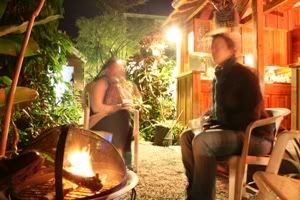 Speaking of getting older, I went to the Key West High School girls' soccer playoff game where I sat with a friend Lyn who I have known since first coming to Key West 18 years ago. Her 18 year old daughter, Kaya Lydamore is a senior and a member of the team which unfortunately lost the exciting game 4-3. It was a lot of fun reminiscing about the good old days- but who knew how fast 18 years can fly by.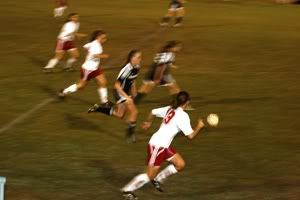 Kaya Lydamore for the KW Conchs
I also attended the annual Unsung Hero luncheon put on by the Community Foundation of The Florida Keys which honored volunteers from 86 non-profit organizations including the organization that I work for, The RPM Nautical Foundation. We honored Ron Day, who has been fantastic about keeping our computer network running smoothly. It was a great luncheon and nice to see so many friends from so many wonderful organizations being recognized. Speaking of RPM, we made the news worldwide this week for our work in Albania. There is a link below to the AP/Reuters article.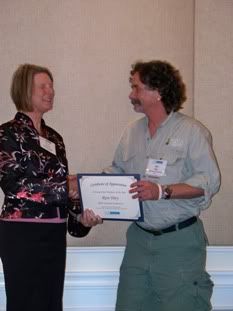 Ron Day accepts the Unsung Hero Award
Finally, Kathy & I had the great pleasure to go see our friend Elena Devers in the current production of the play "Doubt" at the Waterfront Playhouse. If you are in Key West, reading this and it is not too late- you need to get out and see this fantastic production of an amazing piece of work. The cast is uniformly excellent, the set is great and the play is a thought provoking experience that will stay with you long after you see it. There is a link below that you should check out and then get your tickets for a great night out.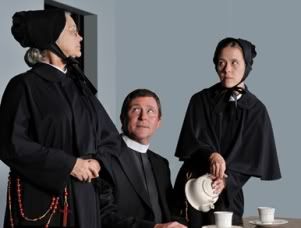 Joy Hawkins, David Black & Elena Devers in "Doubt"
*photo by Barry Fitzgerald
RPM Nautical in the News
Waterfront Playhouse