Counting Crows- West Palm Beach
October 6, 2008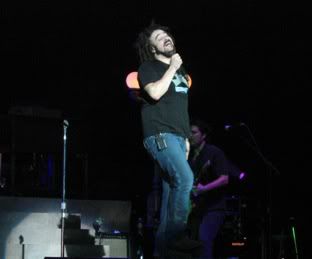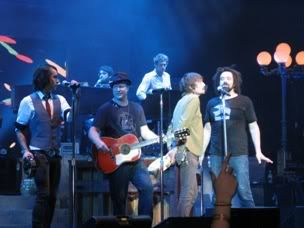 Counting Crows & Augustana
Counting Crows- West Palm Beach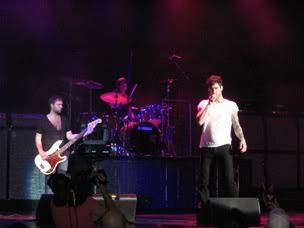 Maroon 5
The Counting Crows wrapped up their summer co-headlining tour with Maroon 5 on Saturday at the Sound Advice amphitheatre in West Palm Beach along with opening act Augustana and I made the drive up from Key West to see the final show. I'd hoped to catch the previous night in Tampa as well, but the dates fell too close to our trip to Austin last week and I could not justify taking the extra time off.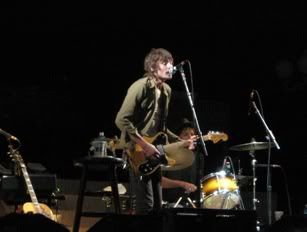 Augustana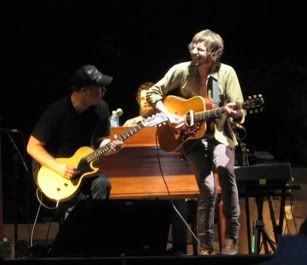 Dan Vickery w/ Augustana
This marks about the 30th Counting Crows show that I've seen since my first, back in May of 1994 at the former Edge nightclub in Fort Lauderdale. They are obviously my favorite band, not only do I love the music, but the live shows are almost always something special as the band often reworks their songs into something that constantly reinvents their sound.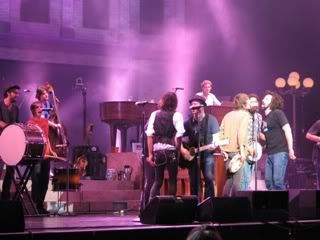 The drive up from Key West was eventful in that I had to drive through monsoon-like conditions. The rain was so heavy that it was blinding at times, I was happy to arrive and happier still not to have seats in the lawn, which was a wet and muddy mess. My seats were actually quite good, 7th row just left of center.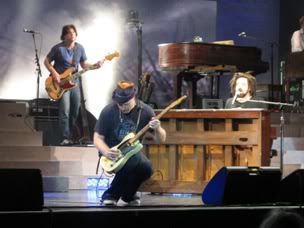 One of the great things about following a specific band so closely is meeting other fans at shows and through the message boards and there were a number of them in attendance, mostly because it was the last show of the tour. I was happy to finally actually meet one of my favorites from the boards, HappyKappy otherwise known as Sara who was down from New York with her friends Trista & Kristin, who had coincidentally purchased my Tampa ticket. I was also happily surprised to again see Mike and Marsha who were out from California. I'd met them previously in Vegas and NYC, but did not expect to see them.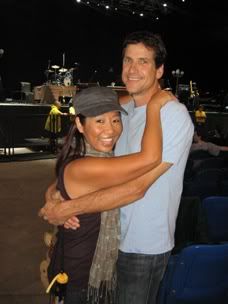 Marsha & Mike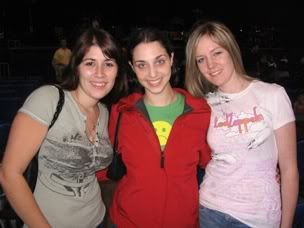 Trista, Sara & Kristin
Augustana opened the show with an excellent set. They were joined at times by various Counting Crows members and they later returned the favor by playing the majority of the Crows set. The Crows were missing two members, Charley Gillingham and David Bryson, who each had become fathers during this tour. So the members of Augustana were actually needed to help fill in. It was evident that playing with new people was something that the band enjoyed immensely and it translated into a great energy and enthusiasm.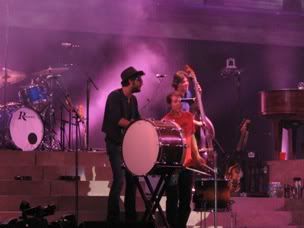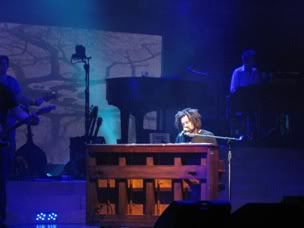 The Crows played an awesome set that included the rarely played, "Why Should I Come When You Call" as well as great covers of "Caravan" and "Cecelia" before closing the tour with a beautiful version of Big Star's, "The Ballad of El Goodo". I was exceedingly fortunate to be given a coveted backstage pass to go backstage after their set. Not the usual meet & greet pass, but the kind usually reserved for family and friends of the band. As soon as their set ended, I went back and got to hang out backstage and meet various band members. A special shout out to drummer Jim Bogios, who never having met me before, was incredibly nice and welcoming, especially since it was moments after having finished a summer long tour. It was a very cool deal and one of which I could not be more appreciative.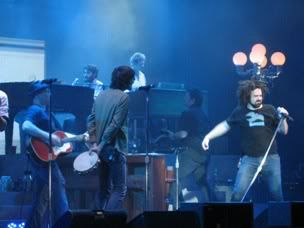 I made it back out in time to catch a portion of the Maroon 5 set. The bands alternated headlining each night and they closed this show. They are not my cup of tea, but played an energetic and effective set that had their fans pretty happy. All in all, it was a pretty spectacular night.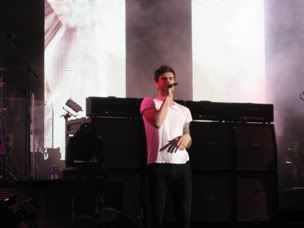 Maroon 5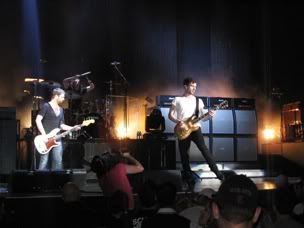 Jim Bogios Website
Arthur R. Marshall Foundation
Counting Crows