Boston & Plymouth
July 10, 2007
Boston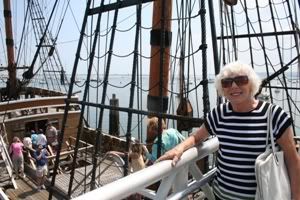 Marta aboard the Mayflower II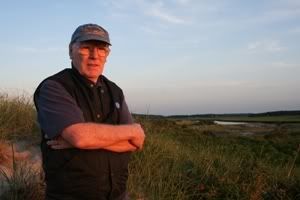 Jim
With Chris, Kari & the kids headed home to Colorado and the holiday behind us, we opted to take Marta into Boston for some sightseeing. She had never spent any appreciable time there other than at the airport and was excited to check out the city. Jim, Kathy, Marta and I took the T from Braintree into Boston, getting off downtown and walking across Boston Commons to the Prudential Building.
We had hoped to take one of the famous Duck tours, but they were sold out. Actually it turned out for the best as we were able to take in more than we might have if we'd have made it on the tour. Having Jim as a guide was entertaining and helpful, as he is so knowledgeable about the city, its architecture and history. We went up to the Top of the Hub restaurant at the top of the Prudential Tower for the view and a nice lunch.
Next we took the train down to the Museum of Fine Arts. This huge and wonderful museum was a perfect stop for Marta. They are hosting a mega-exhibit of the work of Edward Hopper. Hopper, one of the most popular 20th Century American artists, painted much of his life in New England, making this an almost hometown show. Of course this meant massive crowds at the exhibit, still it was pretty impressive. All of his most famous works were included, among them the renowned "Nighthawks", which has become iconic in American culture.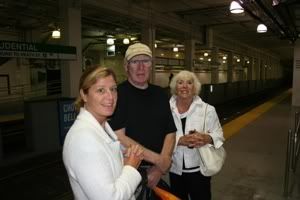 After a lengthy visit to the museum, we headed back uptown to Faneuil Hall. Faneuil Hall is a collection of large market places that includes Faneuil Hall, Quincy Market, North and South Markets. A centerpiece of Boston history for more than 250 years, the marketplace continues to draw swells of tourists and we joined the throng as we looked through the shops and watched sidewalk entertainers before heading back to the train to return to Marshfield.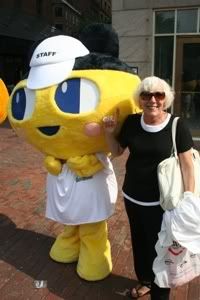 For the final morning of Marta's visit, we drove her to nearby Plymouth where she was able to see the famous Plymouth Rock where the Pilgrims reportedly first stepped ashore and to visit the
Mayflower II.
The
Mayflower II
is an exact replica of the original
Mayflower
that the Pilgrims crossed the Atlantic aboard in 1620. After a quick lunch in Humarock, Marta was on her way to Logan for her trip home to Winston Salem.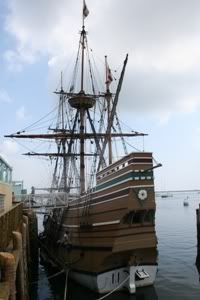 Mayflower II
Marta at Plymouth Rock
My final day in Marshfield was bittersweet. Kathy, Jim & I attended the memorial celebration of the life of Jim's good friend Harry Edgeworth who passed away recently. Harry was a wonderful person, it was just last year that Kathy & I attended his son Michael's wedding while we were in Marshfield and now we were back at the Edgeworth home for another party, this time for a much more somber occasion. The mood was more a celebration of Harry's life and it was fitting that so many people could gather to celebrate a truly remarkable life.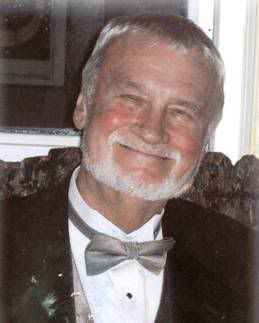 Harry
Remembering Harry
Afterwards, Kathy & I joined Aunt Kathy for a trip to the sauna at UKTS in Pembroke. The sauna is a wonderful place to relax and unwind and it was perfect place to end my visit. I had to catch a 5:40 AM flight back to Key West on Sunday morning. Kathy & India remained, not having to return so quickly to the working world. Kathy plans to spend the week visiting friends and family before driving back to Key West.
The Sauna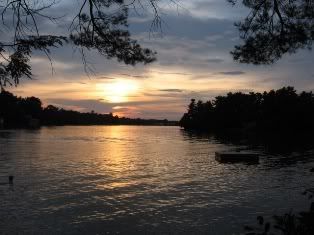 Sunset at UKTS
http://www.topofthehub.net/
http://www.mfa.org/
http://www.faneuilhallmarketplace.com/
http://pilgrims.net/plymouth/history/mayflower.html
http://www.uktshome.com/