Grand Prix of St. Petersburg
March 26, 2012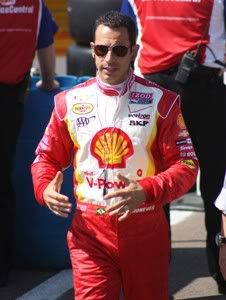 Helio Castroneves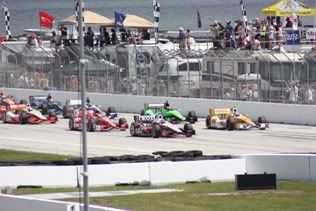 Grand Prix of St. Petersburg
I have been a fan of Indy Car racing my entire life, growing up in Indianapolis it was really difficult not to be. I have a number of friends who are involved with the Indy Car series in some fashion and it often makes for a heightened race experience as my friends sometimes give me access to a few perks that might not be available to many fans. That happened in a big way this past weekend at the Grand Prix of St. Petersburg.
James Hinchcliffe replaced Danica Patrick in the Go Daddy car.
First up was an invite from my friend Lindy to Ed Carpenter racing's special qualifications party at the Red Mesa Cantina on Saturday night. Ed Carpenter's new sponsor is Fuzzy's Ultra Premium Vodka, owned by golfing legend Fuzzy Zoeller and the drinks were flowing like water at the party which was packed with team members, sponsors and a few fans.
Lindy (center) & friends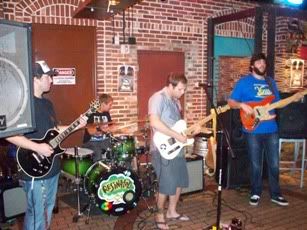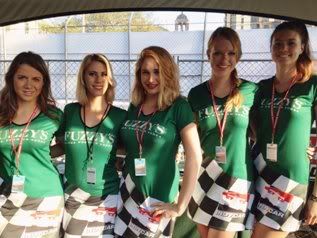 Lindy just started working with Ed Carpenter racing, who was smart enough to snap her up after someone at the NBC Sports network made the boneheaded decision to not renew her contract this season as a pit reporter for the Indy racing league races. I still don't get it as she was easily one of the best, most prepared, intelligent and enjoyable broadcaster who has ever covered the series. Their loss is Ed Carpenter Racing's gain though and I know she will be great at that as well. It was cool hanging out, meeting her boyfriend Kyle (who works for Tony Kanaan at KV Racing), and getting a little bit "Fuzzy" myself.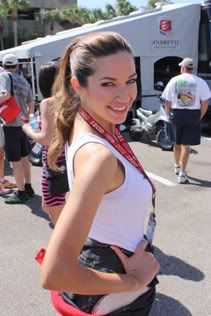 Sunday morning, I was up bright and early and headed over to the track for all the race day festivities. The weather was once again picture perfect, bright and sunny in the low 80s with a gentle breeze blowing across the track. I lucked out again, because my buddy Jason who works for Andretti Autosports was able to secure me a team hospitality pass which enabled me to go in, relax and enjoy free delicious food and drinks with their drivers and team.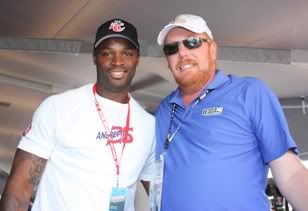 with Reggie Wayne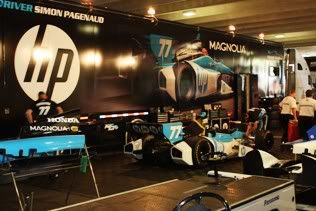 That is how I found myself having a lunch of filet mignon and salmon with Indianapolis Colts All-Pro wide receiver Reggie Wayne, who was there as a guest of driver Marco Andretti while watching the warm-up Star Mazda race on closed circuit TV. Not a bad deal at all. Thanks Jason, I owe you big…again.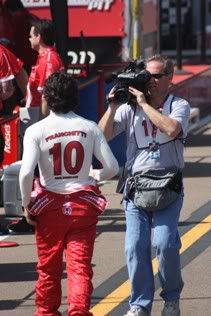 Dario Franchitti
By the time the driver introductions began, I was out on the grid and then on to my seats along the front straight to watch the start of the race. They had a beautiful and moving tribute to Dan Wheldon just prior to the start and then the command to start engines came and the 2012 Indy Car season was underway.
Hinch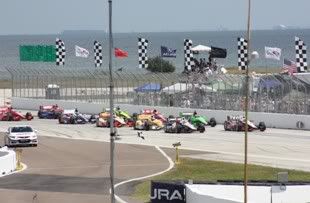 The start was clean, as was most of the race- it was a surprise that there wasn't much banging and no serious accidents. The need to preserve the new cars for the race next week certainly was a factor, but the drivers raced clean and hard and there was a surprising amount of passing and dicing with the new cars. The new cars performed well and it was a pretty decent race.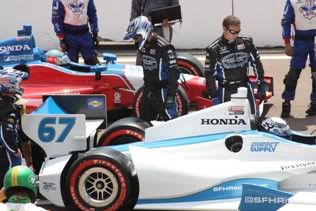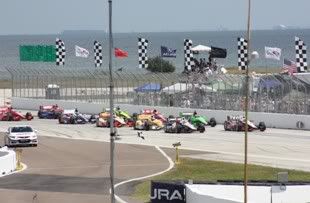 Rubens Barichello
Pit strategy scrambled the field and in the end it came down to an amazing pass on the outside by Helio Castroneves over Scott Dixon to snag the lead and eventually the win. Behind Castroneves and Dixon came Andretti teammates Ryan Hunter-Reay and James Hinchcliffe followed home by Ryan Briscoe. The win by Helio was popular and his emotional tribute to Dan Wheldon upon finishing won't soon be forgotten by any who witnessed it.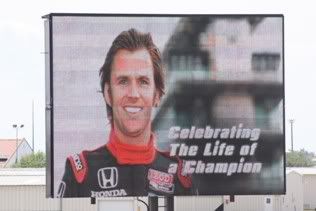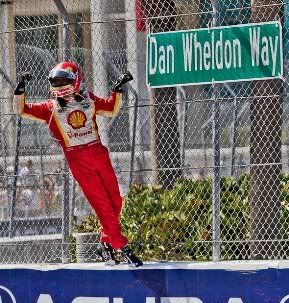 Known as Spiderman for climbing the catch fence after each victory, Castroneves stopped and climbed the fence not on the main street as usual, but in turn 10 along the stretch of street that has been named "Dan Wheldon Way". A clearly emotional Castroneves climbed up and tapped the street sign bearing Wheldon's name before breaking down in tears of joy and sorrow. It was an amazing conclusion to an excellent first race of the season.