Goombay 2012
October 25, 2012
Goombay 2012
This year's Goombay Fest, while still pretty fun, did not have that special feeling that it usually does. I am not sure where the lack of spark was, whether it was something to do with the smaller crowds, less impressive vendors or if it was something more personal- perhaps the fact that Kathy was not here to enjoy it with me, or that there seemed to be fewer friends and people I know out, but whatever the reason, Goombay just did not have the same emotional high for me this year.
Victoria & Joe
On the surface, it seemed pretty much the same, but upon closer inspection you would notice that there was a lack of diversity on the vendor and food options compared to previous years. There are still the plethora of booths selling areapas and meat on a stick, but that was about the only selections possible and some of the more interesting and exotic fare has disappeared.
Dan & Ann
Shannon & Lisa
There is also a distinctly more commercial feel to Goombay as they even brought in a few carnival games, which may be fun for kids, but also seemed to cheapen the tropical nature of what Goombay has always been about. Whatever criticisms that I had, it still is better than most of the festivals and tons of locals and friends still pack the streets and bars that are found in Bahama Village with the epicenter still being at Blue Heaven and Johnson's Grocery.
Aaron & Howard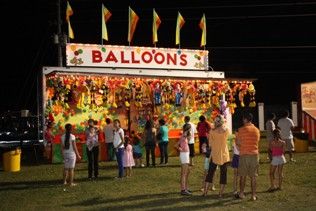 Fun times catching up with friends and hanging out people watching and drinking a few cold beers are still the name of the game on the street corner where all the cool kids still hang out after all these years. Even though it wasn't up to its usual high standards, I still enjoyed a couple of fun evenings hanging out and enjoying the festival.
Richard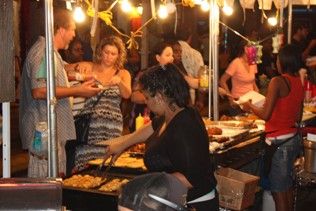 Before heading over to Goombay on Saturday evening, I stopped by the Gallery on Greene art gallery to check out the latest work from local artist Andy Thurber in his exhibit, "Guava Jelly". Thurber is a popular local folk artist who is also one of the studio artists at the Studios of Key West.
His work is beloved by both local and national collectors and it features his images of life in Key West that are at once timely and evocative of simpler times. It is fantastic art and the crowd at Gallery on Greene was happy to be there. Many of them, including the artist himself, later showing up at Goombay with the rest of the island.